Professional Sod Installation Service in Colorado, CO
Have a beautiful green lawn in all seasons with our sod installation services that cover Denver, Arapahoe, Jefferson, and more of Colorado.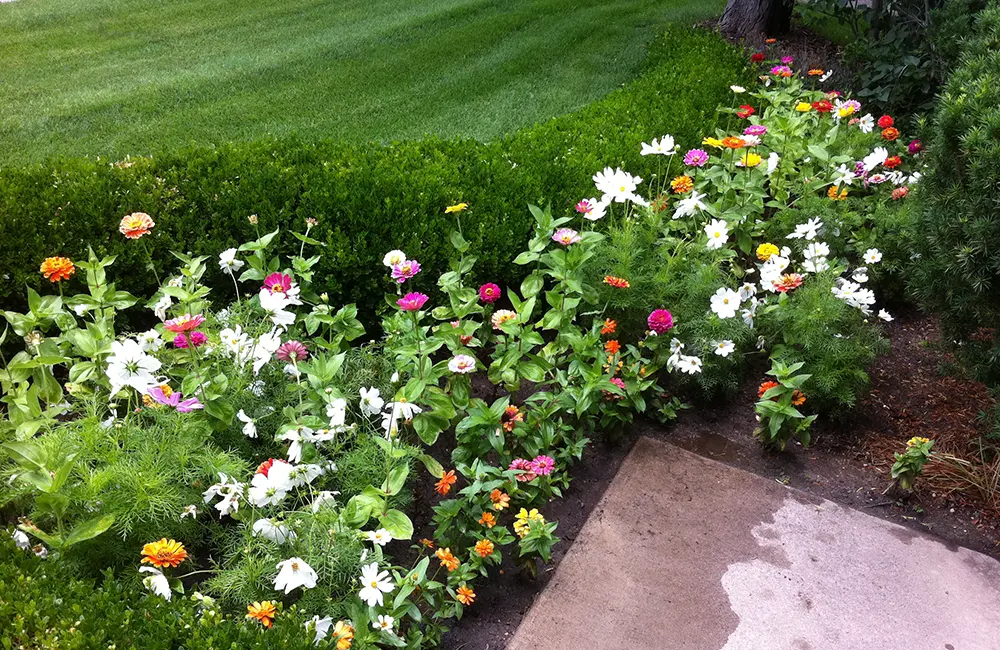 Transform Your Yard with Stunning Sod Installation
Imagine stepping out into your backyard and being greeted by an instant carpet of green, meticulously installed to perfection. With sod, you can have that and so much more.
Within hours, your bare, patchy yard is transformed into a flawless expanse of velvety grass. No more waiting for seeds to sprout and fill in. No more battling stubborn weeds. With sod, the gratification is immediate, and the results are breathtaking.
Fresh sod brings so much to the table, including:
Sod installation is a better option for homeowners who want to establish a beautiful and healthy lawn quickly. Sod, which is mature grass held together by a layer of roots or mat, has many benefits compared to traditional seeding methods.
Unlike seeding, which requires weeks or even months for the grass to grow and fill in, sod provides an immediate and visually appealing lawn. You can enjoy the benefits of a green and healthy yard almost instantly.
Sod ensures a consistent, uniform appearance throughout your lawn. It eliminates the patchy or uneven growth often associated with seeding and delivers a visually pleasing landscape right from the start.
Sod acts as a protective layer against soil erosion. Its interlocking roots help prevent water runoff and stabilize the soil, making it an ideal choice for sloped areas or regions prone to erosion.
Since sod is established with mature grass, it naturally inhibits weed growth. Once properly installed and maintained, sod can significantly reduce the presence of unwanted weeds in your lawn.
At Land Designs By Colton, we offer various high-quality sod options carefully selected to thrive in Colorado's unique climate and soil conditions. Each type of sod we install is chosen for its exceptional characteristics, ensuring a vibrant and resilient lawn. We install sod that matches Colorado's climate and your specific requirements.
If you're looking for a beautiful and durable lawn that can withstand cold winters, droughts, and high-traffic areas, our Colorado Blue™ Sod is a great option. It's a type of Kentucky Bluegrass bred specifically for the Colorado climate and is known for its excellent color, texture, and density.
Our 90/10 blend of tall Fescue and bluegrass is perfect for a strong lawn with a fine texture. Our blend uses the Revolutionary Tall Fescue (RTF®) variety, known for its deep roots that help with water efficiency and drought tolerance. With this blend, you'll have a great-looking lawn that needs less maintenance and water.
If you want grass that does well in hot temperatures during the warm season, go for Bermudagrass. Our Tahoma 31™ Sod is a great hybrid Bermudagrass option. It has a beautiful green color, can handle heat well, is resistant to diseases, and is easy to maintain. It grows fast and creates a thick lawn perfect for Colorado's dry climate.
If you're a homeowner in Colorado, you might want to consider using Tall Fescue as your lawn grass. This type of grass is well-known for its flexibility and strength. Our company provides a high-quality Tall Fescue type called Titan Rx Sod, specifically engineered to withstand heat and drought, and maintain a deep green color all year round.
These are just a few examples of the sod varieties we install. Our team will assess your needs and recommend the best sod type for your lawn based on factors such as sunlight exposure, soil conditions, and preferences.
By choosing Land Designs By Colton, you can be confident that you'll receive top-quality sod that is well-suited to Colorado's climate, ensuring a thriving and beautiful lawn for years to come.
Our Sod Installation Process
Land Designs By Colton specializes in sod installation and landscape design. Our team of experienced professionals has the expertise and attention to detail required to create a beautiful yard. You can count on us to bring your lawn dreams to life.
We are well-versed in the different types of sod suitable for Colorado's climate and soil conditions. Our experts will guide you in selecting the perfect sod variety that thrives in your specific location, ensuring long-term success.
We source high-quality sod from trusted local suppliers to ensure the health and vitality of your lawn. Our commitment to using premium materials guarantees a lush, green carpet of grass that will impress both you and your neighbors.
We take pride in our meticulous approach to sod installation. Our team carefully measures and prepares the area, ensuring proper alignment and seamless integration of each sod roll. We pay attention to the smallest details to create a flawless, professional finish.
We understand that your time is valuable. Our team works efficiently to complete the sod installation within the agreed-upon timeframe, allowing you to enjoy your new lawn as soon as possible.
As a full-service landscape design and build company, we offer many services to complement your sod installation. Whether you're interested in xeriscaping, deck building, patio paver installation, or other landscape enhancements, we have the expertise to bring your vision to life.
No, it's essential to prepare the soil before laying sod for optimal results. Proper soil preparation ensures a healthy foundation for your new lawn and encourages root establishment. We will assess your specific soil conditions and perform any necessary soil amendments to create an ideal environment for the sod to thrive.
Before laying sod, we recommend preparing the soil with a layer of nutrient-rich topsoil. This helps provide a fertile layer for the roots to establish and promotes healthy growth. Additionally, we may incorporate organic matter or compost to enhance soil structure and nutrient content, ensuring the best possible foundation for your sod.
Sod typically attaches to the soil within a few weeks. During this time, the roots of the sod will gradually grow into the soil beneath and establish a firm connection. It's important to follow proper watering and maintenance practices during this initial period to promote root growth and attachment.
Laying sod involves careful preparation and installation techniques. First, we will properly grade and level the area, removing any debris or existing vegetation. Then, we lay the sod in a staggered pattern, ensuring tight seams and proper root-to-soil contact. Regular watering is crucial to keep the sod alive, especially during the first few weeks. We will provide detailed watering frequency and duration instructions to promote root growth and prevent dehydration.
Sod is a living plant that should be installed as soon as possible after delivery. We recommend laying the sod within 24 to 48 hours of delivery to ensure its vitality. This timeframe minimizes stress on the sod and maximizes its chances of successful establishment.
Yes, preparing the ground by thoroughly watering it before laying sod is essential. Moistening the soil helps improve its ability to receive the sod and promotes initial root-to-soil contact. Adequate soil moisture is crucial for the sod's successful establishment, so we ensure the ground is appropriately hydrated before installation.
I've been very happy working with Jonathan so far.
He recently installed an irrigation system and sod for me. The work was well done and he and his team were easy to communicate with and very helpful.
Looking forward to continuing to work with him as I finish my yard.
It was great working with Jon, Flavia, and the team. Jon provided a reasonably priced quote, made some recommendations, and completed the project in a timely manner.
I look forward to working with Land Designs by Colton again in the near future.
Jonathon and his crew were excellent. They are experienced, professional and reasonably priced. They started on time and finished on time.
They did design, demolition and installation of both hardscape and sod at our property as well as install a new fence around it. They also repaired an old sprinkler system with new equipment. Jonathon is friendly and approachable and worked with us to adjust our budget during the process. We highly recommend!
The Sod Installation & Landscaping Services That Colorado Loves
Contact us today for your free estimate and take the first step toward achieving the beautiful yard you've always dreamed of. Let us show you why we are the preferred choice for sod installation and landscape design in Denver, Arapahoe, Jefferson, and throughout Colorado.