Brick fire pits are popular upgrades that can uplift your outdoor living space vibe and can increase your property's value.
But can you build one yourself?
Building a fireplace requires extensive knowledge and materials, but if you have the right tools, materials, and some experience in laying bricks and mixing mortar and cement, you could give it a go – at your own risk.
In this article, you'll discover the essentials of brick fire pits and what you need to know before you start your project.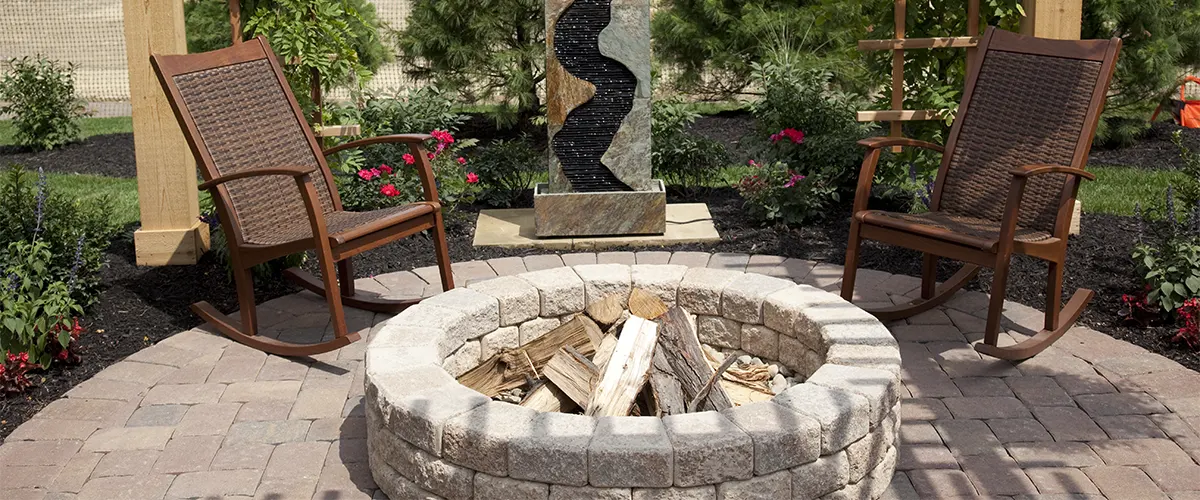 Best Kind Of Bricks For Fire Pits
Fire pits reach extremely high temperatures, so regular bricks (the same you'd use for a house or retaining wall blocks) or concrete blocks won't cut it. These are bricks that will eventually crack because of the heat, causing real accidents in moments that need to be relaxing and peaceful.
Instead, your best option would be to use fire bricks (or refractory bricks). These bricks are denser and go through a kiln process to make them able to withstand high temperatures.
They're larger, thicker, and wider than regular bricks, and you can find it at most brickyards.
Although they're more expensive, they're a safer and long-lasting option that will help you save money on expensive repairs.
You'll need 25 firebricks for a 3-ft. diameter pit.
If you were thinking of using anything else other than fire bricks, like cinder blocks, lava rocks, or concrete blocks, know that these are less functional options when it comes to fireplaces.
What You'll Need To Make Your Own Brick Fire Pit
A DIY fire pit is a relatively easy outdoor project for an experienced DIYer with the right tools.
However, remember that there are safety aspects you need to be mindful of. While a professional landscaper will take care of building permits, inspections, and other zoning regulations, when building a fire pit your own, you'll have to do all that work yourself.
Because of this, your fire pit project can sometimes become too complex and overwhelming to handle. Besides, how will you decide on what's the best fire pit design?
As with any home improvement project that you want to turn out great, your best bet is to hire a professional landscape designer to build your brick fire pit.
But if you're determined to give it a shot at building your own fire pit, we'll give you some guidelines on how the process is done. Starting with the materials you're going to need.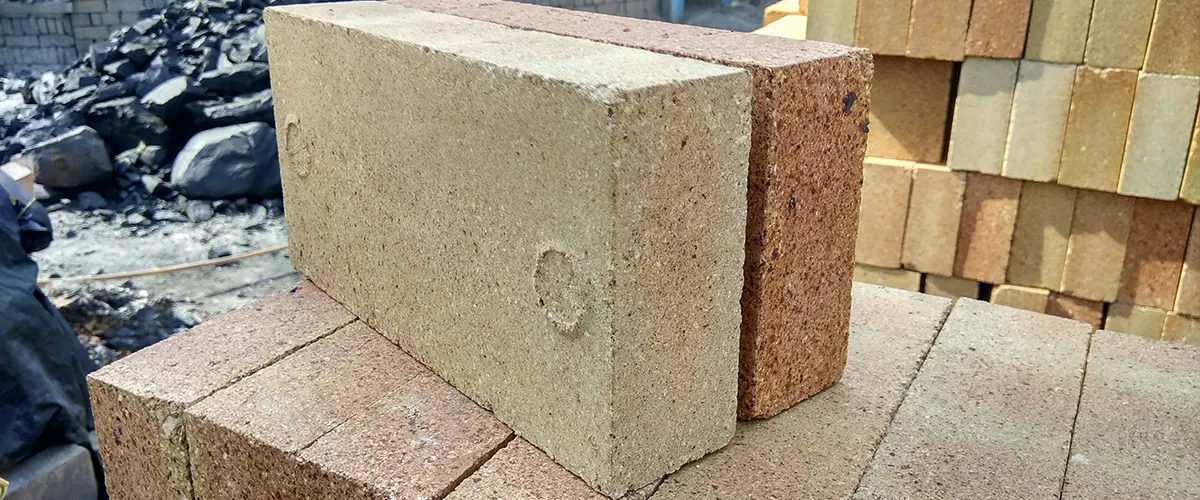 What Is Refractory Cement?
Refractory Cement is an important factor when working with firepits. Just as regular bricks can crack under extreme heat, so can cement.
Because of this, refractory cement is a much better option for building safe fireplaces.
Refractory cement has superior thermodynamic properties that prevent its expansion when submitted to high temperatures.
This material usually comes pre-mixed in a bucket, but in case it doesn't, all you need to do is add water until the texture looks like peanut butter.
6 Steps To Make Your Brick Fire Pit
Let's see how you can build your own brick fire pit in 6 simple and straightforward steps.
Step 01 – Do Some Ground Research
This is an essential part in every project that involves digging, including an in ground fire pit. Call your landline and gas company to ensure you won't be hitting any gas lines or underground cables when digging the ground for your backyard fire pit.
As per the building codes in Colorado, choose a safe place, relatively far from your house. You'll need a lot of free space around the fireplace to ensure everything is safe and untouched by the fire.
Shovel out the soil to a depth of approximately 8 in. for your fire pit base. When you reach that depth, check the bottom of the base with a level to ensure the ground is even. If not, remove the extra ground instead of digging deeper.
Compact the soil with a hand tamper or a wood post.
Step 03 – Set The Base Of Your Brick Fire Pit
Use some hardboard to create a spherical shape around the hole you dug. You can find these at most cement distributors.
Use the hardboard forms to pour the concrete footing. This creates a stable base for the pit walls and will keep your pit from cracking or moving around, as the ground moves over time.
Mix up ten 80-lb. bags of concrete mix according to the manufacturer's directions. Start filling the hardboard template and when halfway there, add a rebar to strengthen the mortar. Continue pouring mortar and let it dry overnight.
Step 04 – Mortar the Firebricks
Firebrick can withstand high temperatures, so it's a much better option than any other brick.
Refractory cement has the consistency of peanut butter and comes premixed in buckets.
You'll need 25 firebricks for a 3 feet diameter fire pit. Adjust all firebricks around the base of your firepit and get ready to mortar them with the refractory cement.
Leave gaps in the firebrick in four opposite points around the base. Place standing half bricks in them to create draw holes that will feed air to the fire.
Make all the cuts at once, but try to avoid them as much as possible. Cutting firebrick is extremely difficult.
Step 05 – Final Adjustments Of Your Brick Fire Pit
Use severe weathering bricks ( or "common" or "building" brick) to line the outside circle fire pit walls. Home centers and brickyards carry a large variety of brick, so you're sure to find some other alternatives, as most of the outside of the fireplace will be purely aesthetic.
You'll need approximately 80 face bricks for a 3-ft.-diameter pit, and around five bags of 80 lb. or Type N mortar mix. You'll lay three courses of face brick and mortar them together.
Let every row of bricks set up slightly (at least 15 minutes) and smooth out the top. To finish off the top, place regular bricks on the edge. You'll need around 40 bricks or less that protects the joints from the elements, gives a little more height to your firepit, and offers a safe ledge to keep your drink.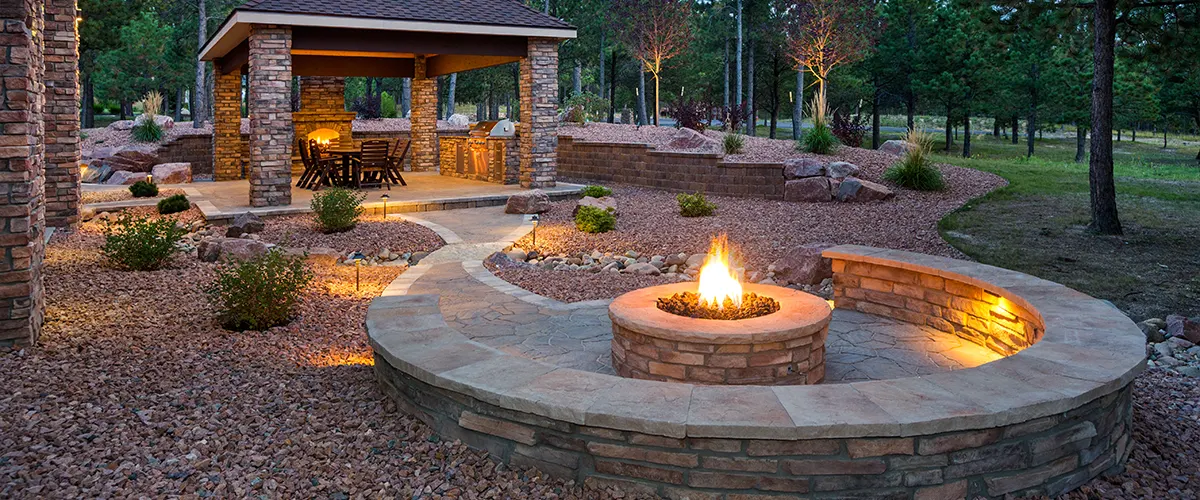 If it sounds easy, you should know that it's not. Building brick fire pits requires extensive knowledge, especially if you don't want a firepit that looks cheap.
At Land Designs By Colton, brick fire pits are our specialty. We've been helping homeowners in Colorado upgrade their outdoor spaces for many years now, and all of them are now enjoying a landscape that boosts their moods every morning.