The Best Commercial Landscaping Services In Denver, CO
Extensive commercial landscaping services to greet your clients in style, great for businesses across Denver, Arapahoe, Jefferson, and more of Colorado.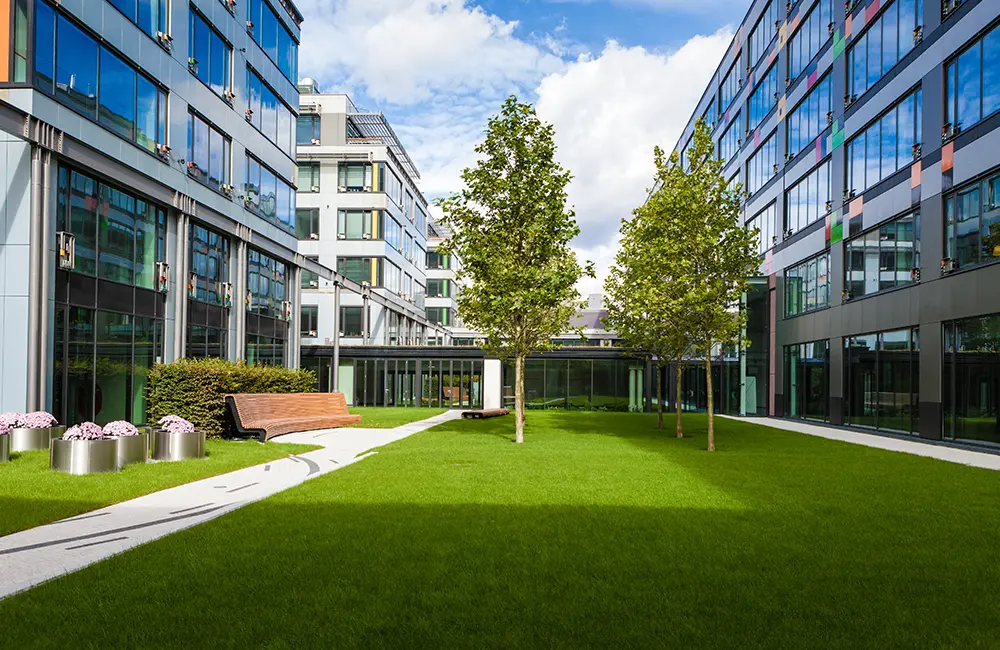 Draw More Business With a Stunning Commercial Landscape
At Land Designs By Colton, we understand the significance of a well-designed commercial landscape installation. A visually appealing and functional outdoor space can significantly impact your business, leaving a lasting impression on clients, customers, and employees.
With our expertise in commercial landscape installation, we are dedicated to transforming your property into a beautiful and thriving environment.
With commercial landscaping, you can benefit from:
The Benefits Of Investing In Commercial Landscaping
The appearance of your business premises plays a vital role in creating a positive impression on clients, customers, and employees. Investing in commercial landscaping improves your property's aesthetic appeal and offers numerous tangible benefits.
Your commercial landscape serves as the first point of contact for visitors. An attractive and well-maintained exterior can significantly enhance your business's curb appeal, creating a positive first impression. A well-designed landscape with carefully selected plants, trees, and features showcases your commitment to professionalism and attention to detail.
Professional landscaping can directly impact the value of your commercial property. A well-maintained and visually appealing landscape boosts the overall worth of your premises, making it more attractive to potential buyers, investors, and tenants. By investing in commercial landscaping, you are not only creating an inviting environment but also adding to the long-term value of your property.
A beautiful outdoor space can positively influence your employees' morale and productivity. Nature has a calming effect and can help reduce stress and increase overall well-being. Well-designed landscapes offer employees a space to relax, take breaks, and recharge, improving job satisfaction and increasing productivity.
Commercial landscaping promotes environmental sustainability by using native plants, eco-friendly irrigation, and sustainable practices. It reduces water usage, prevents chemical runoff, and creates wildlife habitats. Demonstrating your commitment to the environment enhances your reputation with eco-conscious customers.
Thoughtful landscaping reduces energy consumption and lowers utility costs. Strategically planting trees and shrubs for shade and windbreaks regulates temperatures, minimizing heating and cooling needs. Trees also act as natural barriers, protecting your property from strong winds and reducing strain on HVAC systems.
A well-maintained commercial landscape can be a powerful marketing tool. It helps create a positive brand image and sets your business apart from competitors. A beautiful outdoor space can showcase your company's values, professionalism, and attention to detail, leaving a lasting impression on clients, customers, and partners.
Contact us today to learn more about our commercial maintenance services and how we can help transform your business premises into an impressive outdoor space.
Invite Your Clients To Your Business With A Welcoming Landscape
We take great pride in serving businesses throughout Colorado with our expertise in commercial landscape installation. With our experienced team and dedication to exceptional landscape design, we offer a range of solutions to transform your property into a stunning outdoor space.
Our landscape design services enhance the beauty and functionality of your commercial property. We collaborate closely with you to understand your vision, brand identity, and requirements. Our team incorporates native plants, hardscapes, water features, and outdoor amenities to create a visually striking landscape aligned with your business goals.
We specialize in top-notch commercial landscape installation services. Our experienced team understands the importance of creating captivating and functional landscapes that suit your business needs perfectly. From design concept to flawless execution, we ensure every element is carefully planned to exceed your expectations.
Trees are vital in commercial landscapes, offering shade, visual interest, and environmental benefits. Our skilled arborists provide professional tree services, including selection, planting, and ongoing care. Considering site conditions, aesthetics, and long-term tree health, we ensure the trees we install thrive and enhance the beauty of your landscape.
A well-designed and efficient sprinkler system maintains a healthy and vibrant landscape. Our team provides expert sprinkler system installation services tailored to your property's irrigation needs. We consider water efficiency, zoning, and plant requirements to design and install a system that ensures optimal water distribution and plant health.
Partner with Land Designs By Colton for your commercial landscape installation needs, and experience the transformation of your property into a breathtaking outdoor space.
We Make Outdoor Spaces Look Beautiful
Commercial Landscaping FAQs
Commercial landscape maintenance refers to the ongoing care and upkeep of outdoor areas in commercial properties. It involves tasks such as lawn maintenance, pruning, weed control, and overall landscape health management.
Many commercial landscaping services offer snow removal as part of their comprehensive offerings. They ensure that snow and ice are promptly cleared from parking lots, walkways, and other areas, ensuring safe access for employees and customers.
The frequency of lawn maintenance for commercial properties depends on factors such as the size of the property, climate, and specific needs. Generally, regular lawn maintenance tasks like mowing, fertilizing, and edging are performed on a routine schedule, often weekly or bi-weekly, during the growing season.
Commercial landscaping provides property managers with a range of benefits. It enhances their properties' visual appeal and market value, attracts tenants or buyers, and creates a positive impression. Additionally, landscaping services can alleviate the burden of maintenance tasks, allowing property managers to focus on other essential responsibilities.
Reviews From Real Homeowners
John is a pleasure to deal with. His plant knowledge is extensive and his design eye is superb.
He has done many projects for us to include a paver patio, planting beds, garden design/planting and a French drain system, with several more projects scheduled for this Spring. I recommend John and his company unreservedly.
It was great working with Jon, Flavia, and the team. Jon provided a reasonably priced quote, made some recommendations, and completed the project in a timely manner.
I look forward to working with Land Designs by Colton again in the near future.
Land Designs by Colton was fantastic, responsive and professional from day one – they were excited for our project and delivered a fantastic result – landscaping for the entire property – and we will not hesitate to use Jonathan again for any future projects.
Enjoy Top-Of-The-Line Commercial Landscape Installation in Denver
Contact us today to schedule a consultation and explore how our commercial landscape installation services can elevate your business to new heights.