Landscape Lighting In Denver, Arapahoe, Jefferson, And More Of CO
Transform your outdoor space into a captivating nighttime masterpiece.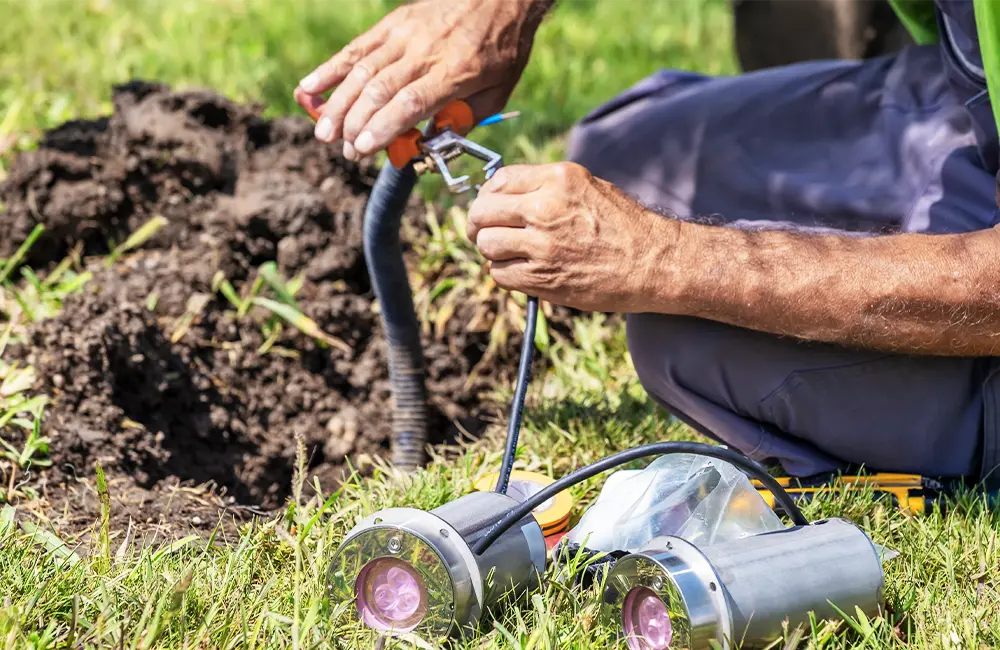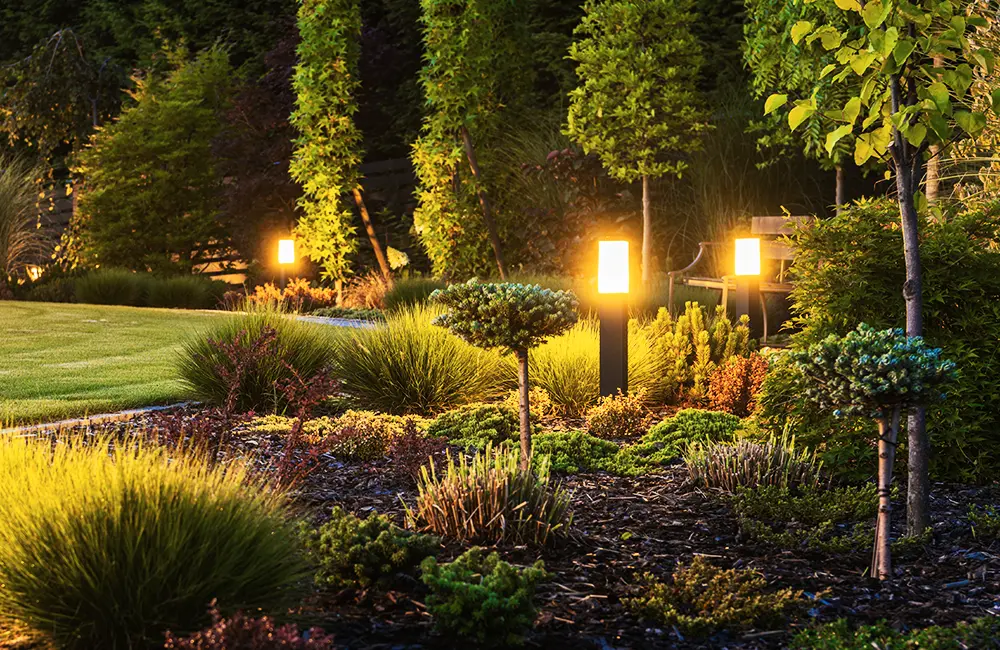 Keep Your Yard Safe Even At Night
Imagine a garden bathed in a soft, inviting glow, where architectural elements come to life, and lush plants take on a magical allure. This isn't just about lighting; it's about creating an unforgettable ambiance that makes your landscape shine like a work of art.
At Land Designs By Colton, we specialize in outdoor landscape lighting that turns your yard into a sanctuary, a place where you can safely wander in the evening, host unforgettable gatherings, and showcase the unique beauty of your property.
With our landscape lighting installation service, you can enjoy:
The Benefits Of Landscape Lighting
Landscape lighting isn't just about brightening your yard; it's about transforming it into a safe, welcoming, and visually stunning outdoor oasis. It adds value to your home, extends your living space, and allows you to create a unique atmosphere that complements your lifestyle and personal taste.
Imagine your garden as a masterpiece and landscape lighting as the brushstroke that brings it to life. It accentuates the beauty of your landscape, highlighting architectural features, lush plants, and charming pathways.
Landscape lighting can create a magical ambiance, making your yard look enchanting, especially during evening gatherings or romantic strolls.
Just as a well-placed spotlight can make an artwork more valuable, landscape lighting can increase the curb appeal and overall value of your home.
When potential buyers see a beautifully illuminated exterior, they perceive your property as well-maintained and inviting, potentially leading to higher resale value.
Landscape lighting acts as a protective shield for your home. It illuminates walkways, driveways, and entrances, reducing the risk of accidents and deterring intruders. A well-lit yard ensures you and your loved ones can move safely through the outdoor space, even in the darkest of nights.
Your outdoor space is like an extra room of your house, but better: with fresh air. Landscape lighting extends the usability of this space, allowing you to enjoy it even after the sun sets.
Whether it's hosting outdoor dinner parties, playing games with the family, or simply relaxing with a book, lighting lets you make the most of your yard at any hour.
Newer lighting technologies, such as LED fixtures, offer both energy efficiency and longevity. They consume less electricity and last significantly longer, reducing your energy bills and maintenance costs.
Eco-conscious homeowners can explore solar-powered landscape lighting, which harnesses the sun's energy during the day to illuminate your yard at night. By reducing your reliance on traditional power sources, you contribute to a greener planet.
Landscape lighting is not just for warm summer evenings. It extends the outdoor season, allowing you to relish your garden's beauty throughout the year. Even during winter or in regions with shorter daylight hours, your well-lit landscape remains inviting.
Modern landscape lighting systems can be integrated with smart technology, enabling you to control the ambiance with your smartphone or voice commands. Adjust the brightness, colors, and schedules to suit different occasions and moods.
Experience the joy of an illuminated outdoor space by contacting Land Designs By Colton. We specialize in landscape design and build, and we can seamlessly integrate landscape lighting to create your dream outdoor oasis.
Types Of Landscape Lighting Suitable For Your Denver Backyard
When it comes to outdoor landscape lighting, there's a world of possibilities to illuminate your outdoor space and enhance its beauty and functionality. At Land Designs By Colton, we offer a wide array of landscape lights to cater to your every need.
Path lights are perfect for guiding your way along walkways and garden paths, ensuring safety and adding a touch of elegance to your landscape.
These outdoor lights come in various styles and heights, allowing you to choose the ones that best complement your outdoor design.
2. Landscape Floor Lights
Floor lights are versatile fixtures that can be embedded in decks, patios, or even along pathways. They add a subtle and stylish glow to your outdoor space.
Install floor lights strategically to highlight architectural elements or create a captivating atmosphere.
Garden lights are designed to draw attention to your carefully curated plants and flowers. They accentuate the natural beauty of your garden, turning it into a nighttime marvel.
These outdoor lights can be adjusted to different color temperatures to create the desired mood.
4. Landscape Solar Lights
Solar-powered landscape lights are eco-friendly options that harness the sun's energy during the day to illuminate your landscape at night.
They are cost-effective and require minimal maintenance, making them a sustainable choice for your outdoor lighting project.
Bollard lights are sturdy, cylindrical fixtures that are often used to line driveways or define outdoor spaces.
These outdoor lights are both functional and decorative, adding a touch of sophistication to your landscape.
Step lights are essential for safety, ensuring that steps, staircases, and uneven terrain are well-lit, preventing accidents.
They can be seamlessly integrated into the design of your outdoor landscape lighting.
Spot lights are powerful fixtures that focus on specific elements, such as trees, sculptures, or architectural details.
Use them to create dramatic effects and draw attention to key features of your landscape.
8. Lights for Water Features
Water features, like ponds, fountains, or waterfalls, come to life with the right lighting. Submersible lights can add a mesmerizing touch.
Play with colors and positioning to enhance the beauty of your outdoor oasis.
If you have a deck, deck lighting can transform it into a cozy retreat for evening gatherings.
Illuminate the perimeter, steps, and deck railings to ensure safety while creating a welcoming ambiance.
10. Outdoor Kitchen Lights
Outdoor kitchens are becoming increasingly popular. Proper lighting around the cooking and dining areas ensures convenience and aesthetics.
Under-cabinet lights, pendant lights, and task lighting can make your outdoor culinary experience a delight.
Whatever your outdoor lighting needs may be, Land Designs By Colton has the expertise to assist you in selecting, designing, and installing landscape lights that enhance the beauty of your outdoor space. Contact us today to discuss the details of your landscaping project.
Experience A Well-Lit Landscape That Could Look Like These
Landscape lighting enriches the aesthetics of your outdoor space and enhances its functionality. It illuminates garden paths, driveways, patios, and architectural elements, creating a visually pleasing environment. It not only highlights your garden's beauty but also ensures safety by lighting up dark corners and paths.
Additionally, landscape lighting extends your outdoor enjoyment by making the space usable even after sunset. Modern lighting systems can also be integrated with smart technology for personalized control, allowing you to adjust the brightness, colors, and schedules to suit different occasions and moods.
Yes, investing in professional landscape lighting is absolutely worth it. The expertise of a professional ensures that your outdoor illumination enhances not just the aesthetics, but also the functionality of your space. They have the knowledge to strategically place lights to highlight key features and ensure safety.
Moreover, professionals are aware of the latest trends and technologies in landscape lighting. They can offer guidance on the most energy-efficient and cost-effective options.
Lastly, a professionally lit landscape can increase your property's curb appeal, potentially raising its value. So, while there's an upfront cost, the long-term benefits of professional landscape lighting are substantial.
Typically, most landscape lighting systems utilize low-voltage Direct Current (DC) instead of Alternating Current (AC). The primary reason is safety. Low voltage DC systems reduce the risk of electric shock if fixtures or wires are accidentally dug up or damaged.
Additionally, DC systems are energy-efficient. They consume less power than their AC counterparts, making them an economical choice for outdoor lighting. Furthermore, many solar-powered lights, which are gaining popularity for their sustainability, also run on DC.
However, it's important to note that the choice between AC and DC can depend on specific requirements and the products used. Always consult with a professional to determine the best fit for your landscape lighting needs.
Landscape lighting commonly operates at 12 volts for several reasons. Primarily, 12V systems enhance safety. The low voltage significantly reduces the risk of electrical shocks if lighting fixtures or wiring sustain damage.
12V lighting promotes energy efficiency. These systems consume less power compared to higher voltage counterparts, making them a cost-effective choice for landscape lighting.
The 12V specification aligns with the operating voltage of many solar-powered lights. As solar lights gain popularity due to their eco-friendliness, using 12V systems ensures compatibility and ease of installation. Always consult a professional to find the best lighting solution for your landscape.
Discover What Our Clients Are Saying
I've been very happy working with Jonathan so far.
He recently installed an irrigation system and sod for me. The work was well done and he and his team were easy to communicate with and very helpful.
Looking forward to continuing to work with him as I finish my yard.
It was great working with Jon, Flavia, and the team. Jon provided a reasonably priced quote, made some recommendations, and completed the project in a timely manner.
I look forward to working with Land Designs by Colton again in the near future.
Jonathon and his crew were excellent. They are experienced, professional and reasonably priced. They started on time and finished on time.
They did design, demolition and installation of both hardscape and sod at our property as well as install a new fence around it. They also repaired an old sprinkler system with new equipment. Jonathon is friendly and approachable and worked with us to adjust our budget during the process. We highly recommend!
Illuminate Your Outdoor Space For A Safer And More Beautiful Yard
Transform your outdoor space into a nighttime oasis with landscape lighting, an incredible choice that combines safety, aesthetics, and functionality in one package.