Both concrete and pavers are two great options for your patio, and each of them has their own advantages. While the concrete vs patio debate has been long going, it's safe to say that one of them will be an overall better choice for your patio.
In a nutshell, you have more design flexibility with pavers, while concrete can look plain and dull if its finish is not spectacular.
But there's more to the concrete vs pavers discussion than that!
Concrete patios are one of the most popular types of patios. They are durable, easy to maintain, and can be customized to fit your needs.
Concrete is a versatile material that can be used to create many different designs, and it can be stained or painted to match your home's décor.
Some common concrete finishes include:
The average cost of a concrete patio for an 120 square feet structure is between $865 and $1,085.
A concrete slab costs on average between $100 and $200 per square foot, depending on the supplier, the delivery, and if it comes finished or not. Labor to have the slab installed will set you back between $540 and $650.
Add to that the reinforcement materials and cleaning supplies (anywhere from $30 to $35 each), and the equipment (average of $85 to $150). The total cost to install a concrete slab over 120 square feet will range between $865 and $1,085.
A typical concrete slab costs between $4.34 and $7.73 per square foot. Poured concrete right on your patio is less expensive, but requires a lot more work, as you need to mix it, pour it, and level it. Already poured concrete slabs only require installation.
Pros And Cons Of Concrete
| PROS | CONS |
| --- | --- |
| Affordable | Limited design options |
| Installation | Repairs are complicated and costly |
| Durable and strong | Stains over time |
| Easy to install | Concrete cracks and splits |
| Easy to maintain | Can become slippery when wet |
Pavers are a type of patio that is made from individual bricks or stones that are set in mortar. They are a popular choice for patios because they are durable and can be designed to create a beautiful look for your outdoor space.
There are many different types of pavers, and you can choose from a variety of colors and styles. Pavers also come in different sizes, so you can create a unique design for your patio.
Note: Interlocking pavers requires some knowledge and a lot of attention. An uneven ground or a poorly placed paver can result in all the pavers moving around and creating multiple trip hazards.
Each material has its own advantages and disadvantages. Here are five of the most popular types of pavers:
For the same patio of 120 square feet, but with pavers, you are looking at spending between $560 to $850 for the pavers only. The cost for labor ranges from $640 to $775.
For materials you'll need mortar, binding materials, sand, gravel, and the landscaping fabric placed on the ground beneath to stop the weeds from growing. You can also use paving stones, but they're more expensive than gravel.
If you don't have the tools and materials, it's best to hire a professional to work on your project. If you want to DIY a paver patio project, you'll spend a lot of time and effort building everything, but you'll spend a considerable amount of money to rent the equipment and the tools necessary.
The installation of a paver on a 1,000 square feet patio can cost as much as $15k.
Pros And Cons Of Paver Patio
| PROS | CONS |
| --- | --- |
| Unlimited design options | More expensive |
| Lower maintenance | May loosen over time |
| Repairs are easy | Harder to install |
| Visually appealing | Difficult to clean |
| Do not crack | - |
| Higher resale value | - |
Concrete Slab Vs Concrete Pavers
Concrete slabs and concrete pavers are both common materials used in construction and landscaping, but they have different characteristics, applications, and benefits. Here's a comparison of the two: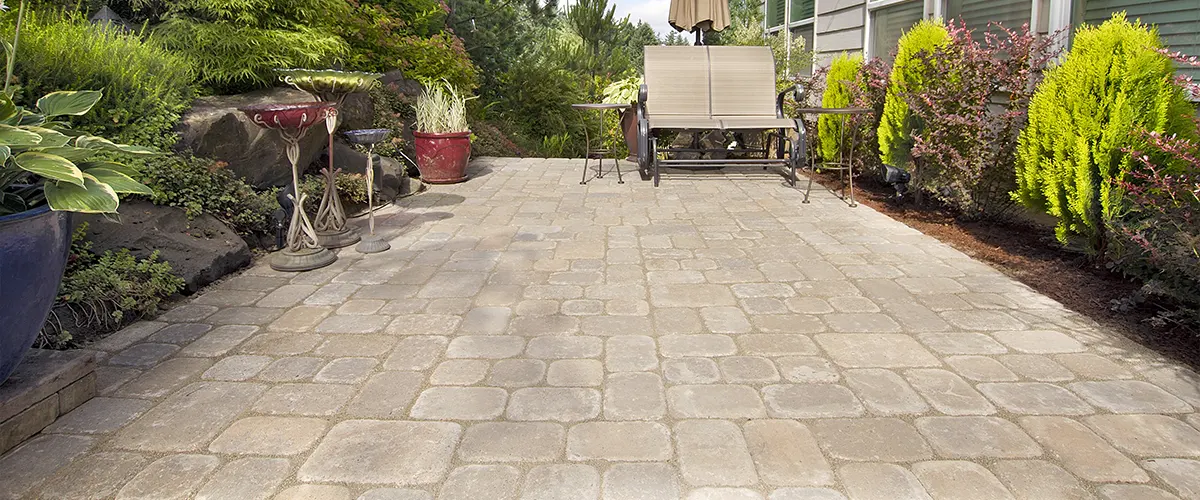 There are pros and cons to both concrete slabs and pavers for patios.
Here at Land Designs By Colton, we recommend paving bricks because of the effect it'll have on your landscape aesthetic. With pavers, you can create a mesmerizing pattern and a welcoming space that will make all your guests want one themselves.
If you're curious about other patio options or you need help deciding which option would be better for your particular situation, 
call us today
!