If you've been looking for a deck building in Denver CO, you're in the right place.
Land Designs By Colton started in 2010 with one goal in mind: to create aesthetic outdoor spaces that offer you the perfect place to kick back with your loved ones and relax.
Working with us means you'll get professionalism and a top quality service from start to finish. We'll take care of everything, from designing your deck and getting you the permits to maintaining it and making sure it's what you always wanted.
A Deck Building Project That Keeps On Giving
We want to exceed your expectations and make it our mission to always over deliver with our service.
Get Your Deck Building In Denver CO From Your Most Trusted Designer
Decks are beautiful structures that improve your home's aesthetics and boost your property's value from day one. But to make sure this happens, your new deck needs to follow certain guidelines.
At Land Designs By Colton, your deck building in Denver CO is in the best hands possible. You'll work with skilled deck builders and we'll come up with the ideal deck design that'll match your needs and preferences.
During the entire project, we'll make sure your vision remains a priority and the end-product will reflect that.
Create the perfect place to entertain your guests and host memorable outdoor dinners where you can enjoy both nature, and the company of your loved ones.
Get the best deck builder in Denver Co on your project right now! Check out our
deck building offer
and make sure your new deck leaves everyone speechless!
Our Customers In Denver Love Their New Decks!
Jonathan and his team just finished fully landscaping the front and side of my home in Lohi.
He did an amazing job! He was on-time, finished the project in one day, left everything looking perfect and clean when they were done. Highly recommend!
Land Designs by Colton provides great customer service, reliability and creativity for all your landscape and maintenance needs for home or office.
Type Of Upgrades And Materials
There are a lot of materials and upgrades you can choose for your deck building in Denver CO. You'll get a detailed list of all of them at our on-site consultation, but until then, let's talk about the most common materials our customers choose.
The most serious deck issues come from its frame, and since the frame is what keeps your structure up, these issues must be addressed ASAP.
Because of that, it's a good idea to ensure the framing material is high-quality.
Grade 1 pressure treated lumber remains a popular material choice for deck framing. However, even ground-contact pressure treated lumber rots and is susceptible to termites.
Steel, on the other hand, is stronger, durable, and a lot more reliable than wood is. In addition, steel doesn't require the maintenance and attention that wood does.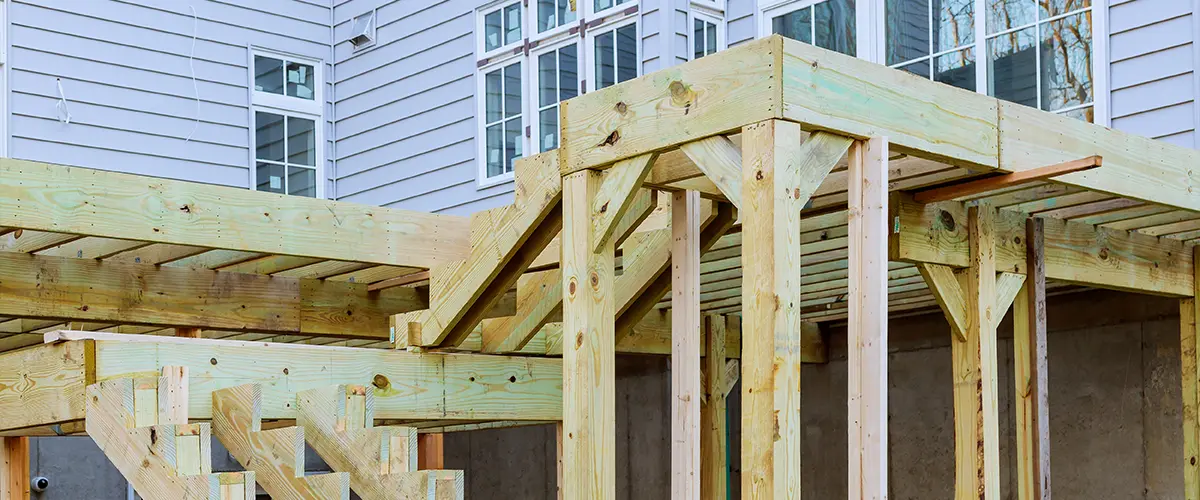 Your deck surface is what gives the final look and vibe of your outdoor space. You want it to look upscale but also have great functionality.
Some types of wood (like Ipe, mahogany, tigerwood, or even redwood) give your deck a natural and high-end look. But they're more expensive than the popular cedar or pressure treated lumber.
The best decking material option if you want to avoid spending too much time and money on cleaning your deck is composite decking. Here at Land Designs By Colton, we work with top brands in the decking industry like Trex, TimberTech, and Fiberon.
Especially for elevated decks, railings are mandatory. Railings give you comfort and a great sense of security.
While wood railings are still the norm, we advise many of our customers to go for composite or aluminum railings. Composite is more durable and aesthetic than wood, but aluminum is clearly a premium choice.
Aluminum railings are extremely safe and fairly easy to match with your deck. Besides, they give a beautiful upscale look to your deck, making it seem more expensive than it really is.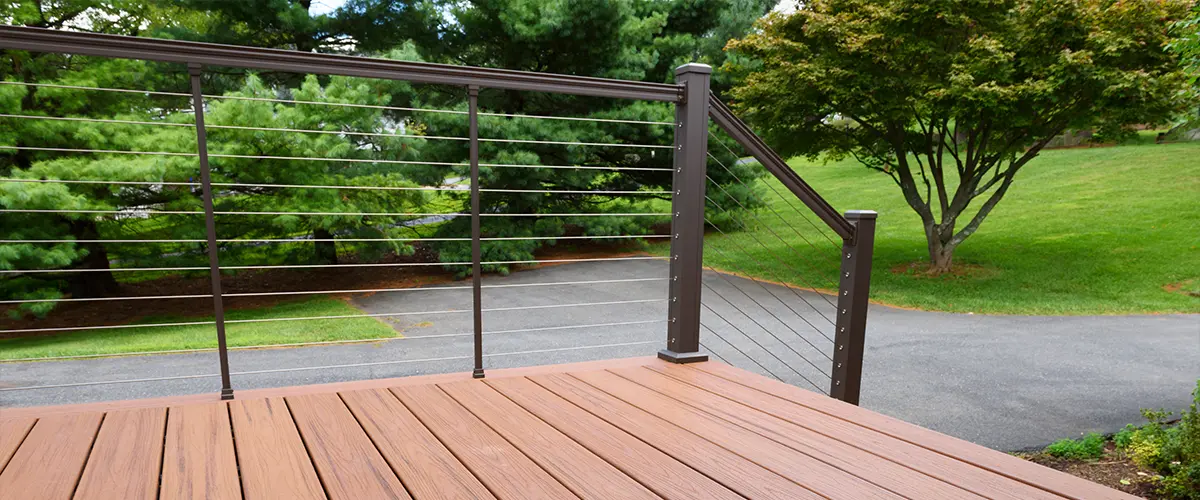 Like railings, lights give you a sense of comfort and safety on your deck, especially at night. Stairs light, for example, are a must for elevated decks with stairs.
Lighting options are up to you. We recommend using a warm light, not too strong, but powerful enough so you can see at night. Low voltage lights are great to create a relaxing atmosphere in your backyard as well.
We recommend our customers multiple options, with two things to keep in mind: get low-voltage lighting with a long lifespan. You don't want your electricity bill to skyrocket, and you don't want to have to replace them in a few years' time.
The Only Deck Worth Having In Your Backyard
Get some inspiration for your upcoming project and see how your project can turn out!
Deck Building In Denver CO Made Easy
We know working with contractors can be stressful, which is why we developed a simple process that puts no pressure on you and your loved ones.
We made it super easy for you to start your deck building in Denver CO right now!

Get in touch, and let's come up with a plan!

When you're ready, we get to work and start building your new deck!

Plan your next family gathering and start entertaining your guests!
Frequently Asked Questions
Our deck building prices start at around $9k for a 10×10 square foot deck made of wood. We quote an average deck construction of 12×16 square foot space at around $28k, and this includes composite decking with lighting, hidden screws, and railing.
A high-end deck building project is typically around $44k. This would be a 16×20 square foot deck, elevated or on the ground, with high-end lighting, custom railing, hidden screws, and more upgrades.
It takes around two to three days to build a basic and an average sized deck. High-end decks that are elevated from the ground can take a lot more time to build, as they require more work and attention.
You'll get an accurate time frame at our on-site visit.
Yes! We work with licensed and insured tradesmen only. I have a degree in Landscape Architecture from Mississippi State University and I've completed several architecture internships around Colorado.
We're constantly learning new techniques and we keep up with the newest technologies, gadgets, and trends that come up in the deck building industry. We know the building codes in Denver, Colorado inside out, so your deck will be up to the highest safety standards. 
Find out more about Land Designs By Colton and our mission right here!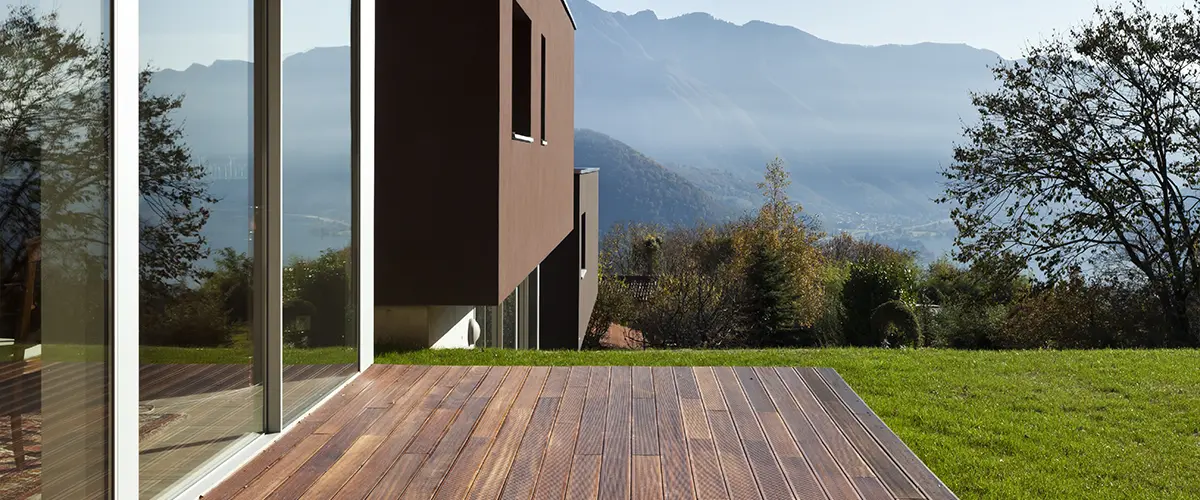 The Perfect Time For A Well-Deserved Upgrade
If you're looking to get your deck building in Denver CO started, this is the best time to do so!
With Land Designs By Colton, you're ensured a smooth ride and an amazing deck construction that's ready to entertain all your friends!
Besides this, you'll also receive:
The Best Decision For Your Outdoor Space Awaits You