If you're looking for the right contractor to get your deck building in Englewood CO started, your local experts from Land Designs By Colton are your best shot!
Land Designs By Colton started in 2010 after Jonathan realized homeowners in Colorado need a better landscape designer. Since then, our goal remained the same: create aesthetic outdoor spaces that offer you the best place to kick back with your loved ones and relax.
We strive for perfection, which is why we focus on professionalism, superior products, and exceptional customer service. We're your one-stop-shop when it comes to landscaping, and we'll take care of everything from start to finish, plus some more!
A Deck Building Project That Keeps On Giving
We made it our mission to always over deliver and surprise you with perks that no other contractor in Englewood CO offers.
Uplift Your Outdoors With A Pristine Deck Construction
Decks are impressive home additions that boost your property's value and offer an ideal place to kick back with your friends and your loved ones. They need to be functional, aesthetic, but most importantly, safe.
With Land Designs By Colton, your deck building in Englewood CO is in the best hands possible. You'll have your own deck architect, designer, and builders, all with a lifetime experience in building safe and fully functional decks.
Your vision will remain a priority throughout the entire project, and the end-product will reflect our dedication and passion for your outdoors.
Be sure to check our
deck building offer
and get the best deck builders in Englewood on your project right now!
Englewood Homeowners Love Their New Decks!
Jon has been terrific to work with. He listened to my concerns and vision for my landscaping. From there, he was able to propose options.
He has always delivered as promised.
I didn't need to worry about his professionalism or punctuality. What I wanted and agreed to, he did.
He's a terrific person to talk to and sound off ideas. Also, he is not "pushy", more pragmatic and helpful. As a small business owner myself, I understand that your integrity and reputation is paramount.
Lands Designs by Colton has achieved that and I would recommend him to anyone I know, and I have!
Great job Jon! I appreciate what you have done for me!
I chose Land Designs by Colton for a xeriscaping project in my front yard. 
Jonathan came out within a couple days of my initial request and was very helpful in determining the design and materials that would complement each other. 
I didn't have a lot to offer in way of inspiration, but thankfully Jonathan put together a plan that looked great and fell within my budget. Within two weeks the project was underway, and approximately 900 sq. ft. was transformed in under three days (including irrigation) and with no unexpected costs. 
Jonathan and his crew were polite, on time, efficient, and left everything in perfect state. I would not hesitate to use Land Designs by Colton for any future projects. Thank you!
Deck Upgrades And Materials
There are many decking materials and extra features you can choose for your deck building in Englewood CO.
We'll walk you through your material options at our on-site consultation, but until then, let's see what are the most popular features and materials.
The deck frame should be all about safety, as this is what keeps your structure up. Naturally, all issues with an existing frame must be addressed urgently before continuing building the rest of the deck.
Grade 1 pressure treated wood is the most common material for posts and decking frames. It's strong, relatively durable, and also inexpensive. Make sure you're getting the ground-contact rated wood though.
Metal frames, on the other hand, are a much better option for your outdoor space, but they're also more expensive. They're stronger, durable, immune to rot, pests, and the elements, making them much more reliable than wood frames.
Besides, metal doesn't require the maintenance and attention that wood does.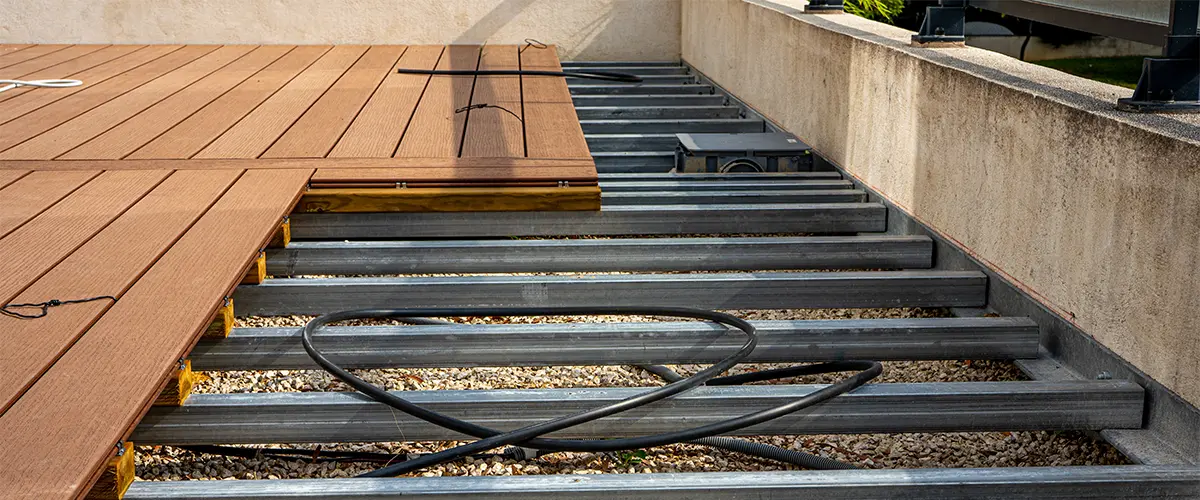 The decking will finish the look and vibe of your outdoor space. You want the final product to look upscale, but also have great functionality.
Some types of wood (like Ipe, mahogany, teak, or tigerwood) give your deck a high-end look and a natural vibe as well. However, they're more expensive than cedar or pressure treated wood, two of the most common decking materials.
If you want to avoid spending too much time staining, sealing, and repairing a wood deck, composite decking is your best option. Here at Land Designs By Colton, we work with top brands in the composite decking industry like Trex, TimberTech, and Fiberon.
Railings are mandatory for all decks elevated from the ground. They make your deck safe for your and your loved ones, but they also have the power to finish the look of a deck.
As new and better railing materials are coming up, homeowners are looking less and less for wood railings.
Aluminum railings, for example, will make your deck much safer and is also more aesthetic than wood. Metal railings, be it wrought iron, steel, or aluminum, are easy to match with composite or wood decking.
Composite is the second option for our customers. These are more durable and aesthetic than wood, but aluminum is clearly a premium choice. Besides, a decent composite railing has a very similar price to that of the best Westbury Aluminum Railing on the market.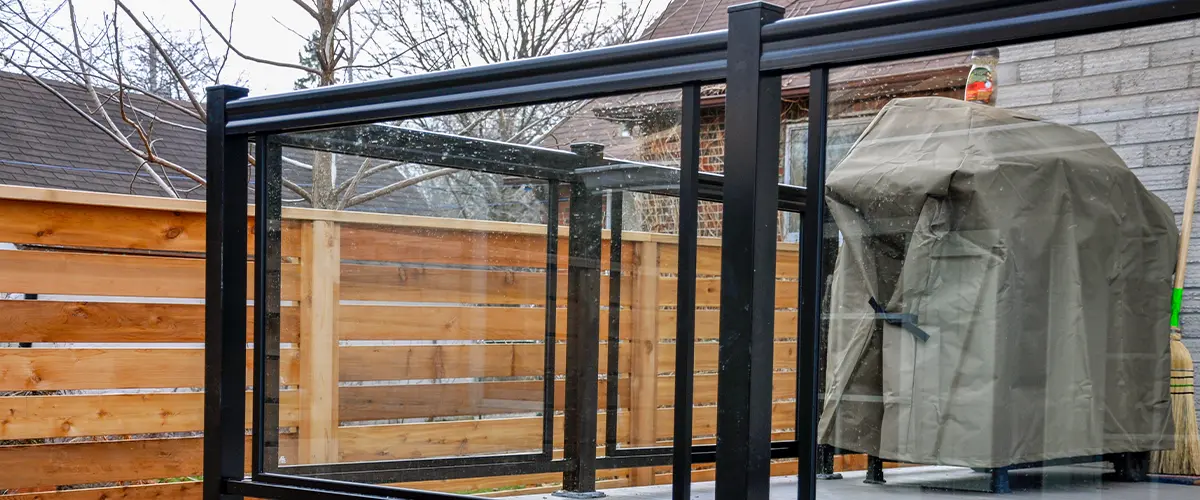 Like railings, lights are mandatory for decks with a set of stairs. They give a sense of comfort and safety on your deck, especially at night.
We recommend our customers multiple lighting options, but we advise them to keep two things in mind: get low-voltage lighting with a long lifespan. You don't want your electricity bill to skyrocket, and you don't want to have to replace them in a few years' time.
Get Inspiration For Your Deck Building In Englewood CO
Get some inspiration for your upcoming project and see how your project can turn out!
Deck Building In Englewood CO Can't Get Easier Than This!
You'll be going through one of the simplest deck building processes in Englewood CO. 
We're aiming to minimize the stress and anxieties of home upgrades, which is why we made it much easier for you to start your project today!

Get in touch, and let's come up with the best plan!

When you're ready, we'll start building your dream deck!

Invite your friends over and entertain them on your new deck!
Frequently Asked Questions
For a 12×16 square foot composite decking you'll pay around $28k. This also includes middle-grade lighting and hidden screws. Small deck building prices start at around $9k for a 10×10 square foot deck made of wood.
Our high-end deck building projects usually cost around $44k. These are large exotic hardwood decks of around 16×20 square feet, and they include high-end lighting, custom railing, hidden screws, and more. Depending on whether your deck is elevated or on the ground level, the price will vary.
For our average and basic decks we allocate between two to three days. High-end decks that are much larger and elevated from the ground take a lot more time, effort, and attention to build. These decks can take about a week to complete.
We value quality more than getting your deck done fast. If your deck requires more attention and care, be sure we'll dedicate all our resources to ensure your new addition is 100% safe and functional.
You'll get an accurate time frame at our on-site visit.
Yes! I have a degree in Landscape Architecture from Mississippi State University and I've completed several architecture internships around Colorado.
You'll be working with insured and licensed tradesmen, all dedicated to your complete satisfaction. We value discipline, transparency, and communication to ensure you're getting an efficient and quick deck building project.
Learn more about Land Designs By Colton and our mission from here!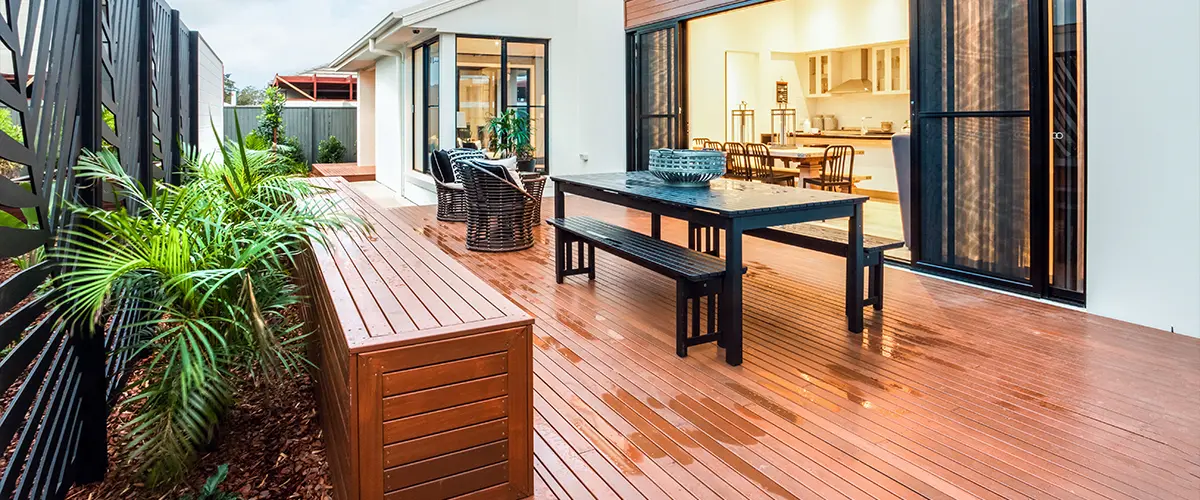 Take The First Step Toward The Best Outdoor Space Today!
If you're looking to get your deck building in Englewood CO started, now is the best time to take the first step!
With Land Designs By Colton, you're ensured the best deck builders in Englewood CO that'll transform your outdoor space into the place it needs to be.
Besides a premium deck construction, you'll also receive:
The Best Decision For Your Outdoor Space Awaits You