If you're thinking of installing a patio flagstone for your outdoor space, there are several things you need to consider to ensure you're making the best decision.
This type of patio is very popular among our customers in Denver, Colorado. They offer a rustic vibe to an outdoor space, they're easy to install and repair (if need be), and they're relatively affordable.
Before you decide on getting a flagstone patio for your backyard, let's look at some things worth considering.
Flagstone is a flat, natural stone cut in different shapes. Flagstones are commonly used to create paving slabs, walkways, patios, flooring, and retaining walls.
The flagstone in itself is a sedimentary rock that's split into multiple layers. It's usually a form of sandstone composed of quartz, and are between 0.16mm and 2mm in diameter. Flagstone is quarried in places with bedded sedimentary rocks with fissile bedding planes.
Typical flagstone colors are red, blue, and buff, though exotic colors exist.
What You Need To Know Before Choosing A Flagstone Patio
Let's look at five factors you'll need to consider before choosing a flagstone patio.
Flagstone patios are relatively affordable, but the cost will vary depending on the size and type of flagstone you choose. Some quarries sell flagstone by the ton, so if you have a large patio in mind, be prepared to spend a bit more.
The average cost for the stone alone runs along $2 to $6 per square foot. However, you'll also need to consider the delivery, installation, other materials (like mortar), and labor.
The national average cost of a flagstone patio is $15 to $22 per square foot.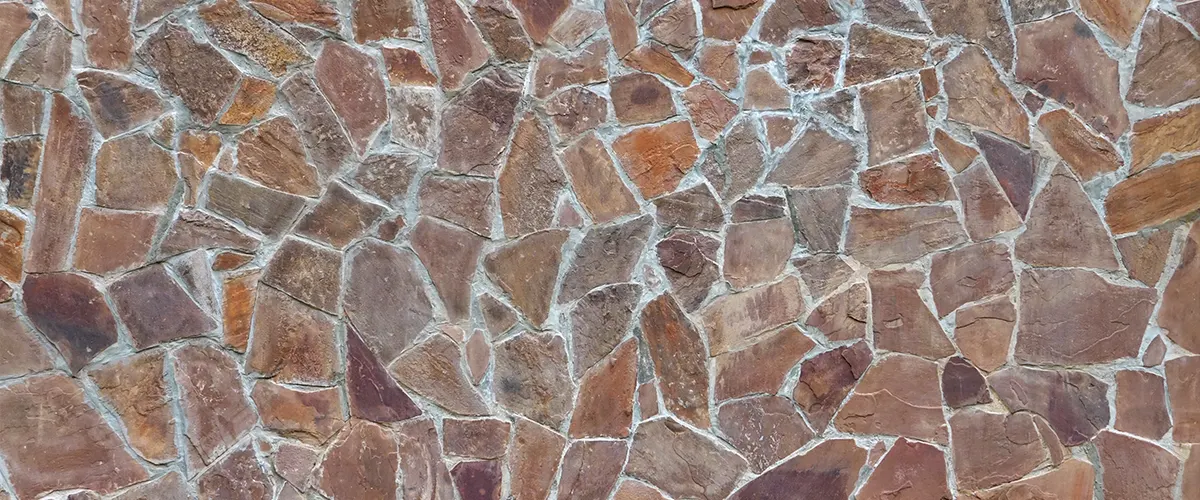 In their endeavor to try and save as much money as possible, many homeowners decide to try installing a flagstone patio by themselves. Needless to say, this rarely turns into a successful project that will last.
Common problems with a DIY flagstone patio include, but are not limited to:
Laying flagstones is a complex process that requires time, expertise, and many professional tools.
Flagstone pavers professionals can build a raised flagstone patio without any problems, but make no mistake, installing a simple flagstone patio yourself can prove to be a nightmare.
As tools, you'll need:
The process includes planning, digging, adding gravel and sand, cutting and puzzling the flagstone, leveling it, and filling in the gaps. Although all these might seem simple, each step has different factors you'll have to consider.
Laying flagstones is not like installing a couple concrete pavers. You'll need flagstone patio designs, tools, experience, and a lot of time to spend learning and making mistakes. Besides, these natural stones are heavy, so you'll definitely need an extra pair of hands.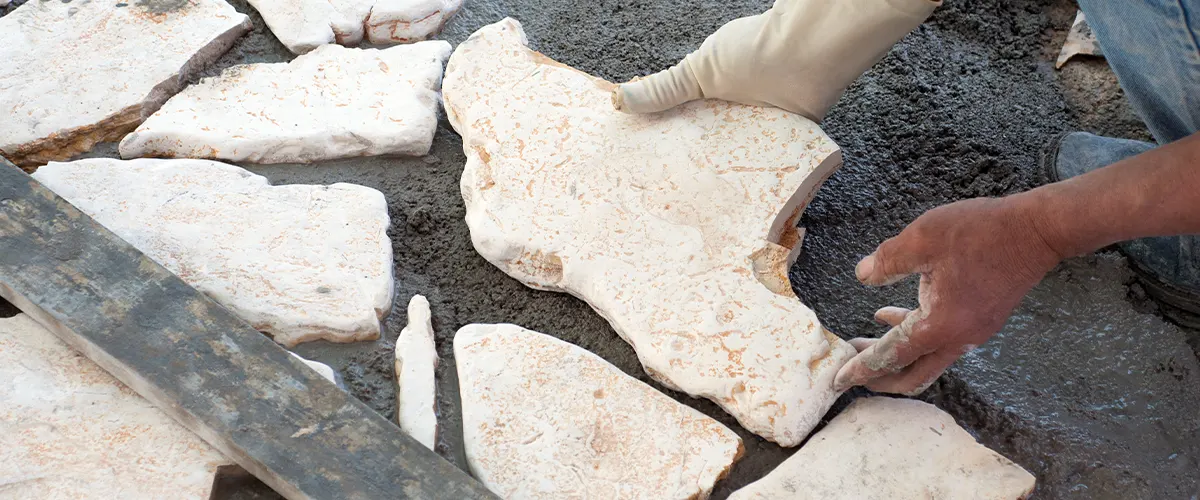 When it comes to looks, flagstone can transform your outdoor space into a beautiful environment that looks out of this world.
When the flagstone patio design is great and the slabs are placed right, it can create a seamless flow and tie the patio and the design together.
When the flagstone patio stones are poorly matched with each other, the effect can be disastrous – a patio full of gaps, trip hazards, and a flawed design in your outdoor space.
If you were thinking a patio flagstone has everything, you should know that it's not the most functional patio you can have.
As we mentioned above, with time, the flagstones will move around creating gaps and irregularities in your patio. This can lead to trip hazards and dangerous accidents.
Besides, if installed poorly, grass will start growing between the flagstones, requiring your constant attention and maintenance.
While a patio flagstone might not be the most functional patio you can get, it can still uplift the aesthetic and vibe of your landscape.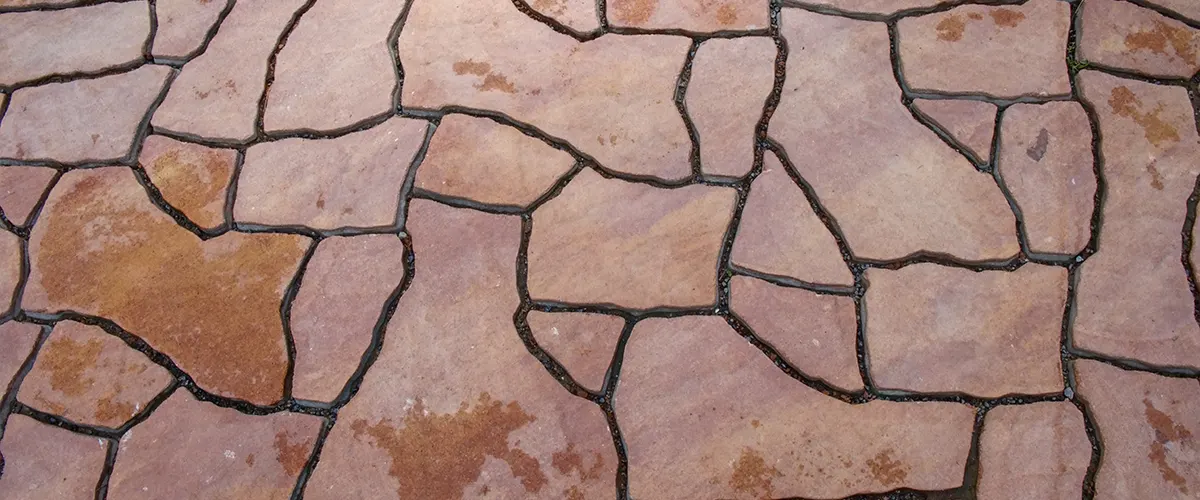 Pros Of A Patio Flagstone
Patio flagstones have many pros that make them a popular choice for outdoor spaces.
Some of these pros are:
Cons Of A Patio Flagstone
Patio flagstones also have some cons that you should be aware of before making a decision.
Some of these cons are:
A patio flagstone can be a great upgrade to your outdoor space when installed by professionals. At Land Designs By Colton, we ensure your flagstone patio will match the rest of the design and will tie everything together.
If you're looking to start your patio project, request a quote by filling out this form, and we'll contact you ASAP.
If you'd rather talk with us sooner, call us directly at (720) 580-3677.
Let's find if a patio flagstone is the perfect choice for you, your family, and your outdoor space!