If you want a stunning outdoor patio in Denver, CO, look no further than Land Designs By Colton. We started our company in 2010 with one goal: to create gorgeous outdoor spaces that provide homeowners peace of mind and relaxation.
At our company, you'll receive the best customer service available. We're dedicated to ensuring our clients are always satisfied and often exceed their expectations. When you work with us, you can sit back and relax – we'll take care of taking care of acquiring permits, buying materials, and everything else needed to bring your paver patio installation project to fruition. Scroll down if you want to find out the prices associated with this type of project!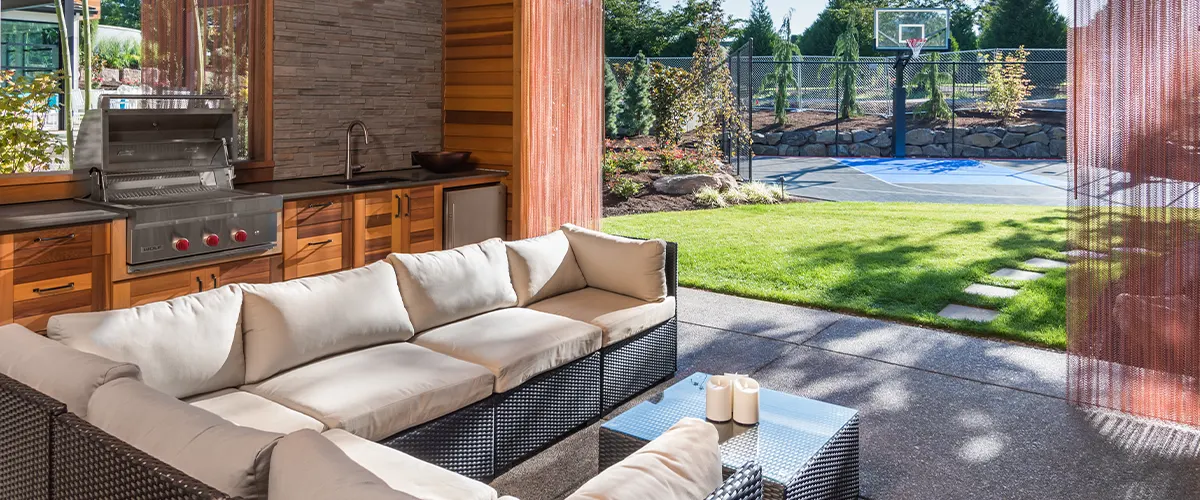 The Typical Cost Of A Paver Patio Installation In Denver, CO
Compared to a simple concrete slab, a patio made of pavers offers patterns and color variations that are aesthetically pleasing. Of all the factors that affect the cost of a paver patio, size is the most important.
As with other projects, installation costs increase as the size of the project increases. This increase is related to the varying project duration, labor, and materials required for installation. Here are the average costs of paver patio installation project:
| National average cost | $40.000 |
| --- | --- |
| Typical price range | $30.275 – $70.950 |
| Extreme low-end cost | $10.000 |
| Extreme high-end cost | $150.000 + |
Paver Patio Installation Costs By Materials
During our in-person consultation, we will discuss all the possibilities of materials and upgrades for your outdoor patio in Denver, CO. But let's talk about what are the average prices for a paver patio installation in Denver based on different materials:
Brick pavers (also known as clay bricks) are often used to construct strong and resilient structures, while also being eco-friendly. Typically seen in a red hue, you can find these versatile building materials in every big box store around you, like Home Depot or Lowes. Brick pavers cost between $32 to $60 per square foot, including materials and labor.
If you're looking for a budget-friendly and customizable paving option, concrete pavers are the perfect choice. Installing them yourself will save money in labour costs while still providing an elegant finish to your outdoor space, but you risk doing a poor installation that ends up with loose or uneven pavers. The cost of installing concrete pavers is between $30 to $60 per square foot.
Transform your outdoor space with a unique custom design made of interlocking pavers! Not only are they aesthetically pleasing, but also highly durable and resistant to cracking. Investing in this eye-catching feature in your garden or driveway is surprisingly affordable too – you can expect to pay between $32 and $60 per square foot, with professional installation included!
Natural stone pavers are not only beautiful but also the toughest and most costly of all, ranging from $30 to a whopping $60 per square foot. Flagstone is the best option among them, costing between $45 and $80 for each individual square foot, including labor!
Paver Patio Installation Costs By Size
If you wish to save some money on your patio project, it's important to keep in mind that the larger the area you want to cover with pavers, the more expensive it will be. Most installers charge by the square foot, which means extra space can cost a fair amount of additional cash. Generally speaking, installing a paver patio typically costs between $32 – $60 per square foot for labor and materials combined!
If you want to have an idea of how much ground your patio will cover, here are the estimated costs for various patio sizes:
| PATIO SIZE | AVERAGE COST | TYPICAL PRICE RANGE |
| --- | --- | --- |
| 100 square feet | $4,600 | $3,200 to $6,000 |
| 200 square feet | $9,200 | $6,400 to $12,000 |
| 300 square feet | $13,800 | $9,600 to $18,000 |
| 400 square feet | $18,400 | $12,800 to $24,000 |
| 500 square feet | $23,000 | $16,000 to $30,000 |
| 600 square feet | $27,600 | $19,200 to $36,000 |
| 700 square feet | $32,200 | $22,400 to $42,000 |
Other Factors That Influence The Cost Of A Paver Patio Installation In Denver, CO
The total cost of a paver patio is determined by several factors that must be considered when estimating costs, such as:
Paver patio installation requires a lot of hard work. The fees for the job range from $5 to $15 per square foot based on experience and complexity, or you can hire someone who charges by the hour (usually at around $50 – $80). That said, your geographic location may affect those numbers as well.
When deciding on a design for your patio, the pattern you pick can also heavily influence installation costs. Notably, custom designs with curves will necessitate specific cutting and subsequently drive up expenses more than traditional layouts such as herringbone, jigsaw puzzle or concentric patterns. Intricately designed structures may generate similar effects too.
If you're looking to install a paver patio around your swimming pool and need it to handle the weight of heavy vehicles, then you'll want to be sure that material selection takes into account how the patio will be utilized. Of course this will also affect the price too.
For the professionals, right angles are a breeze; however, when you switch to curves and tight corners, they need to put in extra effort to ensure the perfect installation of your pavers.
Now that your patio is ready for showtime, it's time to consider how you'll further embellish your beautiful new setup with projects that will make outdoor entertainment a breeze. From landscape lighting and firepits to full-fledged outdoor kitchens complete with refrigerators and grills, there are countless ways to customize your backyard space.
Get Your Paver Patio Installation In Denver, CO, From A Trustworthy Professional
Ready to transform your outdoor living space in Denver, CO? Land Designs By Colton is here for you! As professional contractors, we can craft the perfect patio and create a peaceful oasis in your own backyard. Not only will it make an appealing addition to your home's aesthetic but also add value to your property. Let us breathe new life into your yard!
We will help you turn your dream home into a reality. We will work with you throughout the process to ensure your wants and needs are always our priority. Imagine hosting dinner parties on your new patio surrounded by nature. Let's take this idea and make it into a plan!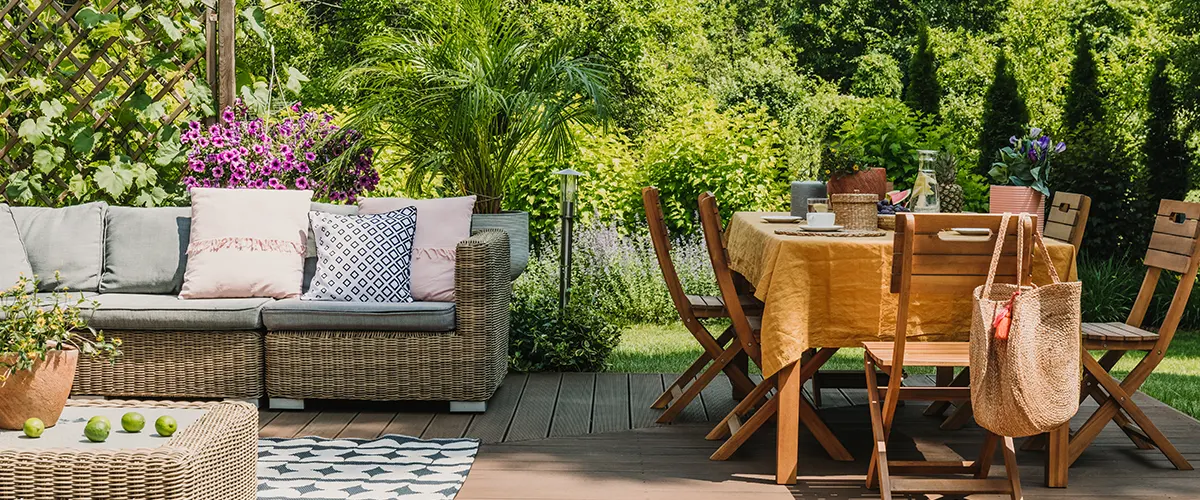 The Best Decision For Your Outdoor Space Awaits You