The Best Sprinkler System Installation In Englewood, CO
Experience lush, green lawns with our efficient sprinkler system installation.
Having a sprinkler system in Englewood, CO is essential. With the area's semi-arid climate, maintaining a lush, green landscape can be challenging. A sprinkler system ensures your lawn gets the right amount of water, reduces water wastage, and enhances your property's value.
Choosing Land Designs By Colton for your sprinkler system installation in Englewood, CO, is a wise decision. Our experienced team is proficient in installing efficient systems, tailored to local climate needs. We're known for our commitment to quality, timely completion, and exceptional customer service.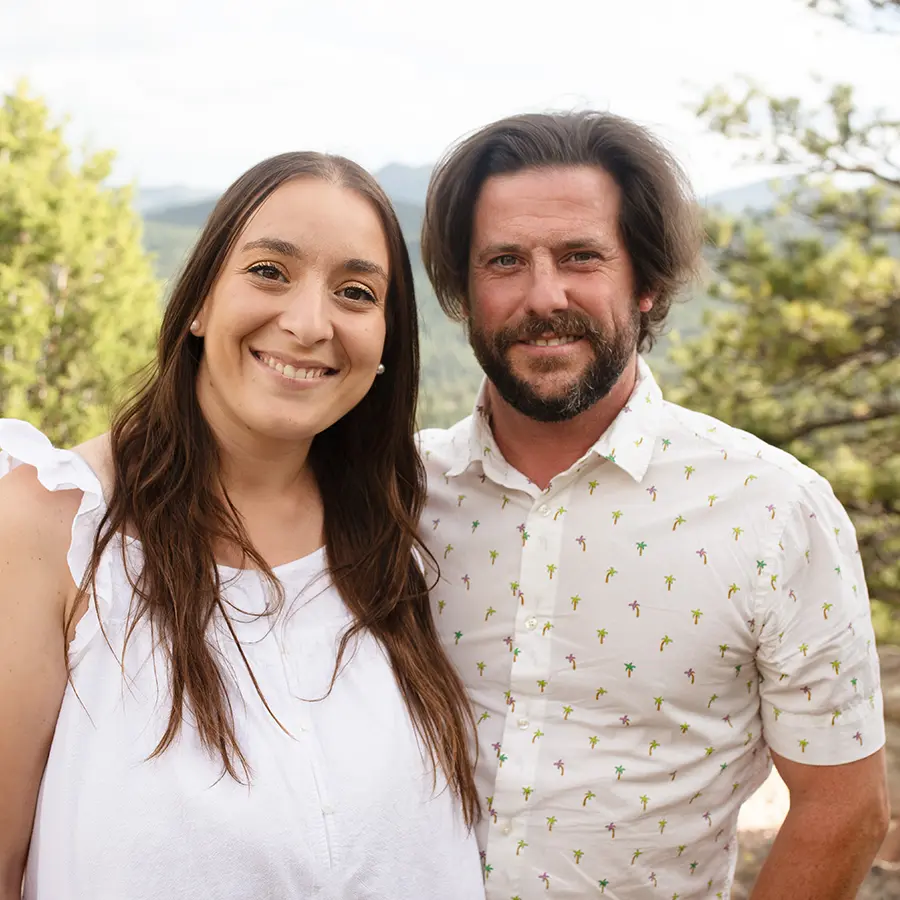 Jonathan and Flavia Colton, owners of Land Designs By Colton
We're Jonathan and Flavia, owners of Land Designs By Colton. In us, you'll find a partner who listens to your vision and creates a space tailored to your and your family's needs. We've been in the landscaping industry for over 10 years, and we've been designing outdoor spaces for more than 25 years. Rest assured, you'll work with a pro that knows this industry inside-out!
Water Your Lawn Without The Effort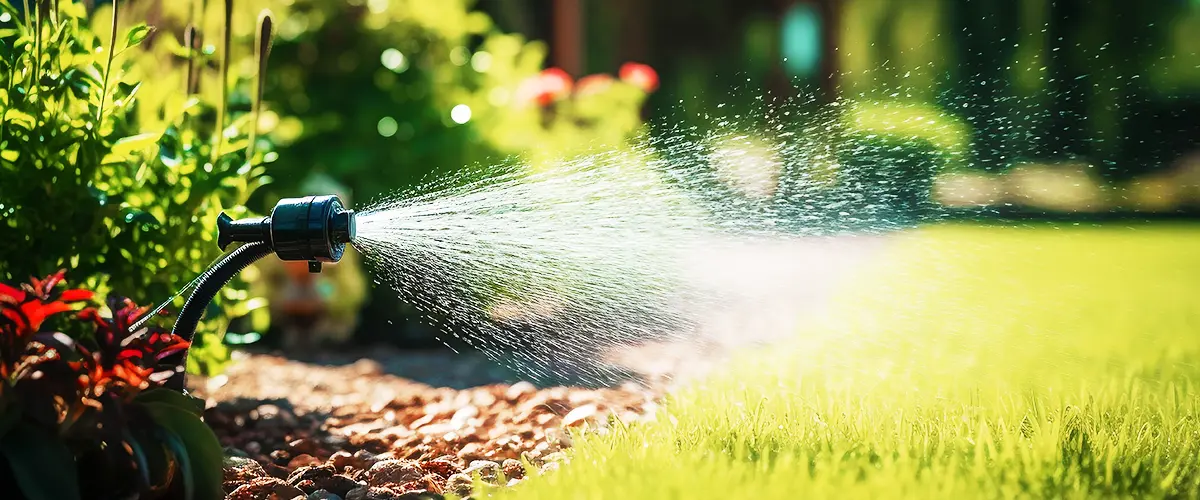 With Land Designs By Colton as your sprinkler system installers, you get more than just a sprinkler setup. You get a customized solution designed to cater to your unique lawn needs. Our dedication to quality workmanship, coupled with our deep understanding of the local climate, ensures your lawn thrives year-round. Plus, our exceptional customer service guarantees a hassle-free experience.
Stay Inspired By These Aesthetically Appealing Lawns
Explore our gallery below, showcasing a diverse range of stunning landscapes we've transformed with our sprinkler systems. Each image is a testament to our dedication, expertise, and attention to detail.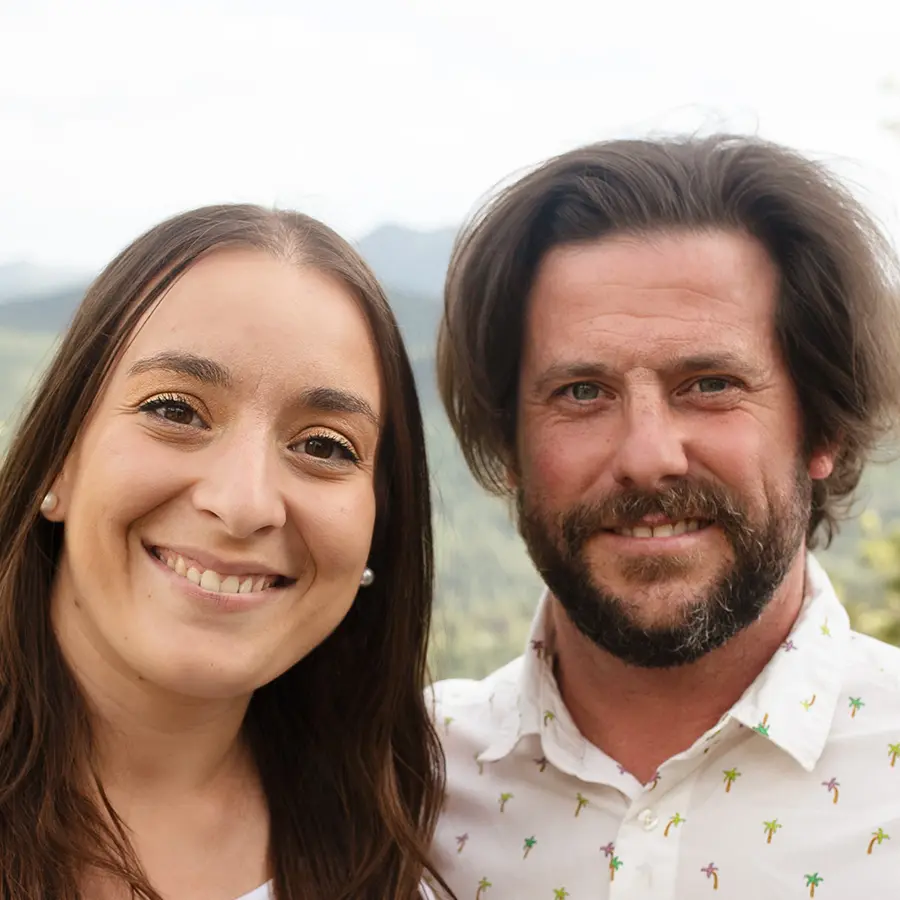 Have questions or thinking about requesting a quote? We are here to help! Give us a call at (720) 580-3677 or send us a message. We can't wait to bring your landscaping dreams to life with our cutting-edge sprinkler systems.
Why Your Englewood, CO, Neighbours Loved Working With Us
Discover why we're a top choice for sprinkler system installation in Englewood, CO. Read the testimonials shared by our satisfied customers who've experienced our exceptional service and quality work firsthand.
Jonathon and his crew were excellent. They are experienced, professional and reasonably priced. They started on time and finished on time. They did design, demolition and installation of both hardscape and sod at our property as well as install a new fence around it. They also repaired an old sprinkler system with new equipment. Jonathon is friendly and approachable and worked with us to adjust our budget during the process. We highly recommend!
I had an incredible experience with Land Designs by Colton. They were on time, delivered high quality results and exceeded my expectations.
I had tons of questions about everything from recommended plants to optimal sprinkler schedules. They answered them all and helped me configure everything I needed. I plan to use them again for any future improvements.
Sprinkler System Installation Cost In Englewood, CO
In Englewood, CO, the average cost for a sprinkler system installation typically ranges between $8,500 and $15,000. The exact cost will depend on the size of your lawn and specific system requirements.
| Type of System | Features Included | Price |
| --- | --- | --- |
| Basic Sprinkler System | Spray Nozzles, Rotor Sprinklers, Wi-Fi Controls | $8,500 |
| Advanced Sprinkler System | Multiple Designated Zones, Advanced Timer, Weather Connectivity App, Weather Station with Wi-Fi | $15,000 |
| Custom Drip Irrigation | Custom Drip Zones, Trenching, Filling, Compacting, Grading, Upgraded Valves | $7,400 |
* Please note, the prices listed above are based on our past projects. Costs for your specific sprinkler system installation may vary depending on the unique needs of your landscape.
Factors Influencing Sprinkler System Installation Cost
The cost of installing a sprinkler system in Englewood, CO, can be influenced by several factors:
Did you know we offer a 5-year workmanship warranty on our sprinkler system installations? When you choose Land Designs By Colton, you're not just investing in a superior irrigation solution for your lawn but also buying peace of mind. We stand by our work, ensuring you get excellent value for your hard-earned money.
Don't Let Budget And Time Constraints Get In Your Way
We understand that homeowners often worry about budget and time constraints. That's why at Land Designs By Colton, we aim to provide cost-effective and timely sprinkler system installation services without compromising on quality.
Investing in a sprinkler system is akin to upgrading your old car to a fuel-efficient hybrid. Just as the hybrid saves money in the long run by reducing fuel costs, a sprinkler system installation optimizes water usage, thereby cutting down your utility bills.
At Land Designs By Colton, we value your time as much as we value ours. We are dedicated to meeting agreed-upon deadlines and ensuring that all work is done within the specified timeframe. Our commitment to punctuality and cleanliness sets us apart and ensures a hassle-free experience for you.
Unveiling Our 3-Step Sprinkler System Installation Process
Let's delve into our straightforward 3-step sprinkler system installation process, designed for efficiency and customer satisfaction.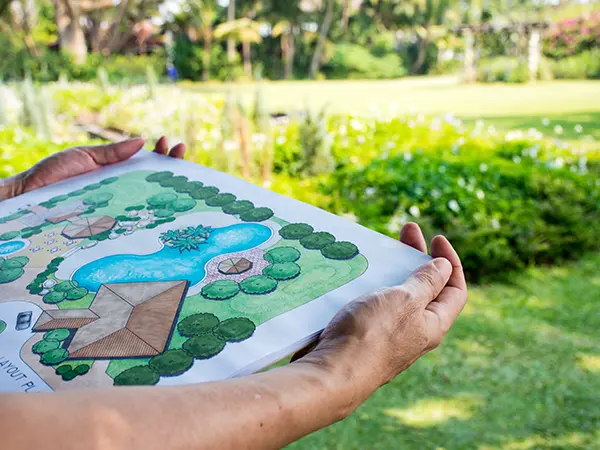 We discuss your needs and design a system that fits your lawn perfectly.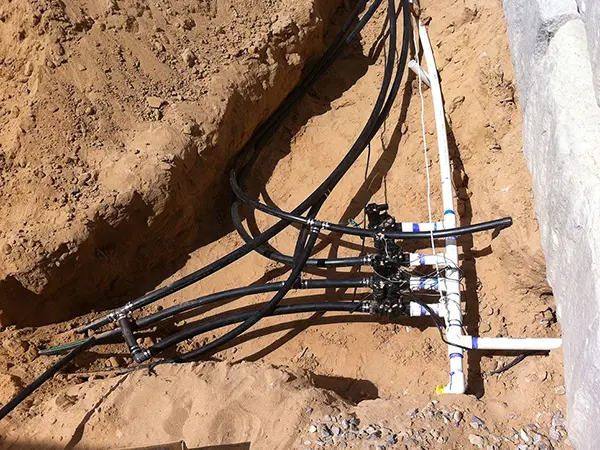 Our skilled team seamlessly installs your custom sprinkler system.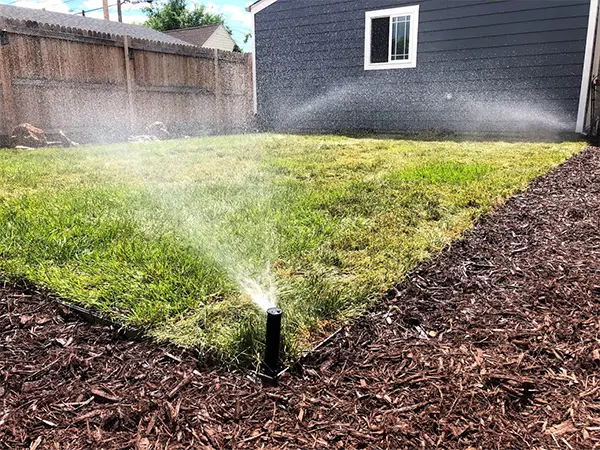 Watch your lawn thrive with minimal effort from your side.
FAQs About Sprinkler System Installation In Englewood, CO
Typically, a zone in a sprinkler system can support around 5 to 10 sprinkler heads. However, the exact number depends on the water pressure in your area, the type of sprinkler heads used, and the size of the area being watered. Our team will customize your system for optimal efficiency and coverage.
In Colorado, it's best to winterize your sprinklers around mid-October to early November. This is to prevent any potential damage from freezing temperatures, which can start to occur during these months. Remember, each system and landscape may have unique needs, so it's always best to consult with a professional.
In Colorado, the frequency of watering your grass depends on various factors, such as the type of grass, time of year, and recent weather conditions. However, a general rule of thumb is to water your lawn 2-3 times a week during the summer months. Keep in mind, it's best to water deeply and infrequently to encourage strong root growth. As always, adjust based on your lawn's specific needs.
Make Manual Lawn Water A Thing Of The Past
If you're ready to make manual lawn watering a thing of the past, let's talk! Give us a call at (720) 580-3677 to discuss your needs, or simply send us a message by clicking the button below. We look forward to helping you create a healthier, greener lawn with less effort.
Other services you might be interested in:
Englewood, CO, is a vibrant city brimming with natural beauty and cultural attractions. Residing in the South Platte River Valley, it boasts the fascinating Museum of Outdoor Arts and the tranquil Centennial Park. Belleview Park offers a unique blend of recreational activities, accompanied by the inviting Pirates Cove Water Park. The Gothic Theatre, an iconic Art Deco-style venue, serves as the city's cultural heartbeat, hosting a myriad of performances. Englewood also possesses a robust culinary scene, with plentiful dining options radiating from the bustling city center.