It's finally time to start thinking about your outdoor spaces! Spring is just around the corner, so it's time to get cracking on some projects that will make your home more enjoyable in the warmer months. In this post, we discuss stone for patios and some tips for creating a gorgeous, functional space. Whether you have a large patio or a small balcony, stone is a great option for creating an inviting and stylish space. Keep reading for our top tips!
The Benefits of Stone Patios
Stone patios are a great way to add value and functionality to your home. By using stone, you can create a durable, long-lasting patio that will last for years. Stone is also a great choice for climates with harsh winters, as it can withstand extreme weather conditions. In addition to its durability, natural stone is also a very aesthetic material that can add beauty and value to your home.
And lastly, stone is environmentally-friendly. According to the U.S Green Building Council, eco-friendly construction is now a mainstream thing. Using natural elements in your landscaping is a great way to contribute to protecting our planet. There are many different types of stone available, so you're sure to find the perfect option for your patio.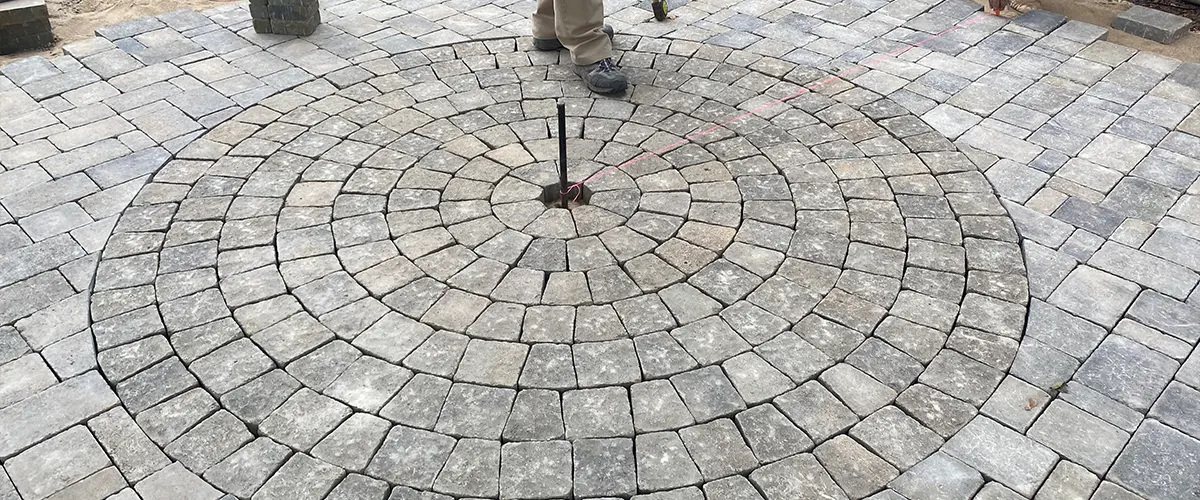 How To Choose The Best Stone For Patio
When choosing stone for your patio, it's important to consider both function and form. You'll want to choose patio materials that are durable and easy to maintain, but you also want to pick a stone that compliments your home's style. For example, if you have a traditional home, you might want to choose classic stone pavers such as granite or marble. If you have a more modern home, you might opt for something like concrete or limestone. Once you've decided on the stone you want to use, it's time to start thinking about the design of your patio.
How To Design Your Outdoor Space
There are a few things you'll want to keep in mind when designing your stone patio. First, you'll need to consider the size and shape of your space. If you have a large patio, you'll have more room to get creative with your design. If you have a smaller space, you might want to keep the design simple and clean. Second, you'll need to consider how you want to use your patio. Do you want to use it for entertaining? For relaxing? For dining? Knowing how you want to use your patio will help you determine the best design.
Once you've considered all of these factors, it's time to start planning your stone patio. Draw up a plan or find some inspiration online, and then get started on bringing your vision to life. With a little hard work and creativity, you can have the stone patio of your dreams!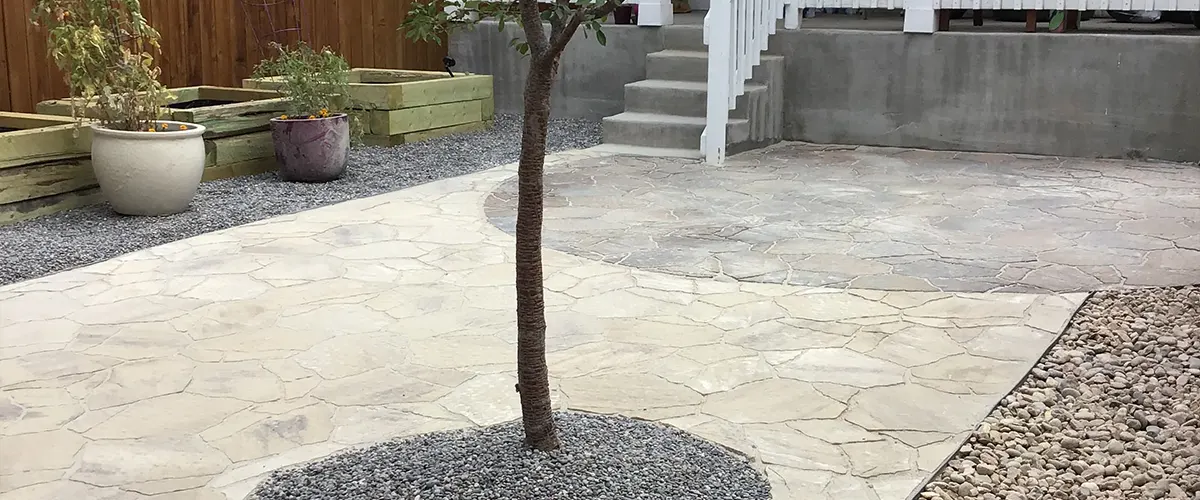 The Different Types of Stone Patios
When it comes to adding outdoor living space, a stone patio is a popular and attractive option. Stone patios can be made from a variety of materials, including flagstone, slate, and bluestone. Each material has its own unique appearance, and the costs can vary widely depending on the type of stone you choose.
When it comes to hardscaping, bluestone is a popular choice for patios, walkways, and other flatwork. Available in a range of hues from blue to gray, this natural stone complements a variety of landscapes and architectural styles. rectangles that can be installed randomly or with a regular pattern. Bluestone is also available in different grades that vary in price and ease of installation. For example, premium bluestone is more expensive but offers a smoother surface that is easier to clean and maintain. So, whether you're looking for an affordable option or want the best quality bluestone for your project, there's a product to suit your needs.
If you're looking for a unique and rustic paving option for your home, flagstone may be a perfect choice. Flagstone is a type of stone that is flat and irregular in shape, making it ideal for paving. Flagstone is available in a variety of sizes, so you can choose the right type of stone for your project. If you're looking for a tight joint, you'll want to choose smaller stones. For a more rustic look, larger stones are the way to go. No matter what style you're going for, flagstone is an excellent choice for any outdoor space.
Pavers are a great choice for your patio because they are strong, durable, and come in various colors, styles, and finishes. Pavers are usually cheaper than other paving stones and are quick to install, making them an economical choice for your patio project. They also look better than concrete pavers in your patio area. You can achieve different looks by laying pavers in various patterns, and the pavers come in varying finishes that will try to mimic a more rustic, natural look. Even though pavers are very strong and will last forever, their color can gradually fade. When deciding on your patio material, consider pavers for their many benefits and wide array of choices.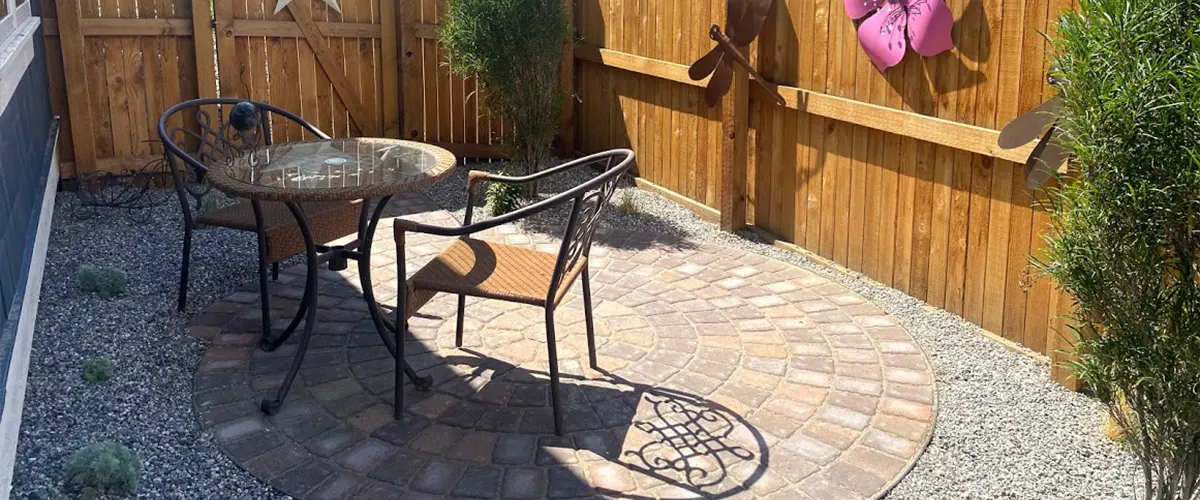 Cobblestones are a type of granite that has been broken and chiseled rather than saw cut. As a result, they have rough faces and other irregularities and aren't flat stones. Cobblestones come in various sizes and are most often used for edging and accents. However, they can also be used for paving larger areas since the stones themselves are big, and you can put them one stone at a time. Thanks to their durability and attractive appearance, cobblestones are a popular choice for both residential and commercial applications. When properly installed, they can last for many years with minimal maintenance.
Fieldstone patio stones are a great option for anyone looking to add a bit of rustic charm to their outdoor space. These naturally occurring stones are typically thicker and heavier than other patio stones or flagstones, making them ideal for patios, steppers, and other high-traffic areas. Because they cannot be level or fit perfectly, fieldstone patio stones produce a rougher surface, giving your patio an authentic, old-world look.
If you're looking to create a beautiful and functional outdoor patio space, our team can help. We have years of experience in designing and installing patios for homeowners all across the country. Get in touch with us today to learn more about our services, or take a look at some of our previous work on our website. We would be happy to help you create the perfect patio for your home!