Trenching In Denver, Englewood, Arvada, Centennial, Littleton, And More Of CO
Experience the difference of a well-hydrated lawn with our top-notch irrigation system installation and trenching.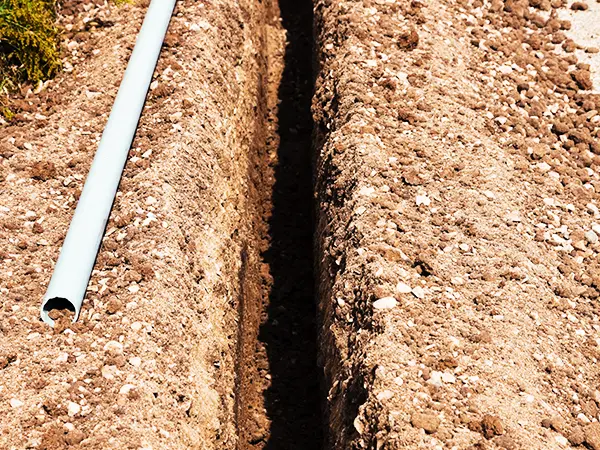 Have A Thriving Lawn, Minus The Constant Manual Watering
Imagine a vibrant, lush green lawn without the hassle of manual watering. With our professional irrigation services, that dream becomes reality. We utilize trenching techniques to ensure precise water delivery to every corner of your yard.
As the leading landscape design and installation firm in Denver, CO, we pride ourselves on creating perfect outdoor spaces. Our expert team provides comprehensive irrigation system installations and trenching services, guaranteeing optimal hydration for your lawn.
Enjoy our professional trenching services for irrigation that offers:
The Role of Trenching in Landscaping
Trenching, a fundamental aspect of landscaping, involves creating narrow, deep depressions in the ground to install utilities, irrigation, or demarcate specific areas. Key roles of trenching include:
Trenching allows for the proper installation of irrigation systems. These systems ensure efficient water distribution across the landscape, promoting plant health and growth.
Trenches serve as channels that facilitate water flow, thus preventing water-logging and soil erosion, which can be detrimental to the landscape. Planting Bed Creation: Trenching is used to define and separate different areas of a landscape, such as flower beds, vegetable patches, or lawns.
Trenching is used to define and separate different areas of a landscape, such as flower beds, vegetable patches, or lawns.
Trenches provide a path for laying down cables for outdoor lighting and other landscaping features that require electrical wiring.
Deep trenching is used for planting trees, ensuring sufficient depth for root development.
Trenches can provide a neat edge around lawns and gardens, enhancing the aesthetic appeal of the landscape.
Looking to install a sprinkler system in your outdoor space? At Land Designs By Colton, we specialize in comprehensive landscaping services, including trenching. Contact us today for efficient and professional sprinkler system installation that guarantees optimal water distribution.
Why You Need A Professional To Work On Your Landscape Trenching In Denver, CO
Choosing to work with us, Land Designs By Colton, for your landscape trenching needs has numerous advantages over attempting to do it yourself:
Our skilled team has the knowledge and experience to execute a project well. We understand the nuances of trenching and its impact on overall landscaping.
Trenching is labor-intensive and time-consuming. By hiring us, you can free up your time and avoid the hassle of carrying out the work yourself.
We ensure high-quality results that meet industry standards. Our team will carry out trenching in a strategic and thoughtful way to maximize the benefits to your landscape.
While DIY trenching might seem like a way to cut costs, the potential for mistakes and damage might end up costing more in the long run. Our professional services provide a cost-effective solution.
Trenching can be hazardous if not done correctly. Our team is trained in safety procedures, ensuring that the project is completed without risk to you or your property.
We utilize the latest equipment and technology for trenching, which allows us to provide efficient and precise service.
Unlike DIY, our service doesn't end with trenching. We offer post-service support, including regular maintenance and resolving any issues that may arise.
Choosing us means choosing peace of mind, knowing that your landscape trenching is in the hands of experienced professionals. Contact us with all your project details, and we'll come up with a plan for all your landscaping needs.
Our Professional Trenching Process In Colorado
Our professional trenching process involves a series of strategic steps to ensure top-notch results:
Our team starts with a thorough assessment of the landscape to understand its unique attributes and requirements. This helps us plan the most effective trenching strategy.
Based on the evaluation, we create a detailed plan that includes the layout of trenches and the irrigation or utility systems to be installed.
Before beginning the trenching, we prepare the site. This includes marking the trench lines and ensuring all utilities are properly located to avoid disruptions.
Using state-of-the-art equipment, our team carefully digs the trenches according to the pre-established plan, ensuring precision and minimal disruption to the surrounding landscape.
Once the trenches are dug, we proceed with the installation of the irrigation or utility systems as planned.
6. Site Clean-up and Restoration
After the installation, we clean the site, fill in the trenches, and restore the landscape to its original state. Our team ensures the area is tidy and ready for you to enjoy.
Each of these steps is carried out with meticulous attention to detail, and your satisfaction is our utmost priority. Trust us with your landscaping needs, and we will transform your outdoor space into a green paradise.
Enjoy A Complete Sprinkler System Installation That Looks Like This
Trenching, part of the broader trenching and excavation process, involves digging narrow, deep depressions in the ground for utility installation or landscaping purposes.
While crucial, it comes with potential excavation hazards, including cave-ins, falls, falling loads, and hazardous atmospheres, all of which pose significant safety and health risks. Proper safety measures must be implemented to mitigate these trenching hazards, ensuring a safe and efficient working environment.
At Land Designs By Colton, we offer professional, efficient, and safe trenching services. Our skilled team, equipped with the latest technology, guarantees high-quality results, ensuring your landscape's optimal functionality and aesthetic appeal. Trust us for your trenching needs for a hassle-free experience.
Trenching involves earth removal and is typically performed using equipment like backhoes and trenchers. It poses the greatest risk of cave-ins, which are most effectively mitigated through a protective system. This system includes sloping the trench walls, shoring with supports, or shielding with trench boxes to prevent soil displacement.
Soil trenching is a specific type of trenching that involves creating a narrow and deep hole in the soil. This process is mainly used for the installation of underground utilities or irrigation systems.
It can also be employed for soil analysis and to enhance the soil's water absorption capacity, especially in agricultural settings. Professional assistance is essential for soil trenching tasks to ensure safety and efficiency.
Trenches can be categorized based on their purpose and shape. The common types include utility trenches for installing utilities, sewer trenches for sewage systems, and drainage trenches for rainwater.
Some trenches are V-shaped for easier excavation, while others are rectangular for utility installation. In construction, bell-bottom trenches are used for creating foundations. Each type requires specific safety and efficiency measures.
Trenching and tunneling are both excavation techniques but serve different purposes. Trenching involves creating a deep, narrow surface hole for utilities or irrigation, primarily open to the surface along its length.
On the other hand, tunneling is the process of creating an enclosed pathway or 'tunnel' underground, often for transportation or mining purposes. Both processes require safety measures due to potential hazards.
Read The Stories Of Our Satisfied Customers
I've been very happy working with Jonathan so far.
He recently installed an irrigation system and sod for me. The work was well done and he and his team were easy to communicate with and very helpful.
Looking forward to continuing to work with him as I finish my yard.
It was great working with Jon, Flavia, and the team. Jon provided a reasonably priced quote, made some recommendations, and completed the project in a timely manner.
I look forward to working with Land Designs by Colton again in the near future.
Jonathon and his crew were excellent. They are experienced, professional and reasonably priced. They started on time and finished on time.
They did design, demolition and installation of both hardscape and sod at our property as well as install a new fence around it. They also repaired an old sprinkler system with new equipment. Jonathon is friendly and approachable and worked with us to adjust our budget during the process. We highly recommend!
Prepare Your Landscape For Sprinkler System Installation With Our Professional Trenching In Denver, CO
We guarantee meticulous attention to detail, minimal disruption and deliver top-notch results, transforming your outdoor space into a green paradise.