It's time to uplift your outdoor space and you keep hearing about hardscaping and softscaping, but what do they mean?
In a nutshell, hardscaping includes all of the non-living things in your landscaping. Patios, retaining walls, benches, arbors, driveways, paved pathways, and everything else that's a decorative structure, is hardscaping.
Softscaping, on the other hand, are the natural elements of your landscape, like your lawn, trees, flowers, or garden beds.
But there's more to hardscaping than this, so let's begin.
Hardscaping refers to the non-living elements and structures incorporated into a landscape or outdoor environment. These features are designed to provide functionality, organization, and aesthetics to outdoor spaces, while complementing the natural elements of the surroundings. 
Key components of hardscaping include:
Hardscaping materials often encompass a wide range of substances such as concrete, bricks, stones, pavers, wood, metal, and composite materials.
The process of hardscaping entails careful planning, taking into account factors like terrain, drainage, and existing vegetation. Additionally, hardscape features are designed to serve various purposes, including defining spaces, offering seating areas, improving accessibility, preventing soil erosion, and enhancing overall outdoor living experiences.
Hardscaping vs. Softscaping
While hardscaping includes all the non-living things around your property, softscaping includes the living organisms, like trees, flowers, or the lawn.
Both hardscape features and softscape work together to create the perfect outdoor space, and one without the other would mean an incomplete landscape.
Incorporating hardscaping into a landscape project requires a balance between hardscape and softscape elements. Softscaping refers to the living elements of a landscape, such as plants, trees, shrubs, and flowers. Achieving harmony between these two aspects ensures a well-rounded and visually captivating outdoor environment that is both functional and inviting.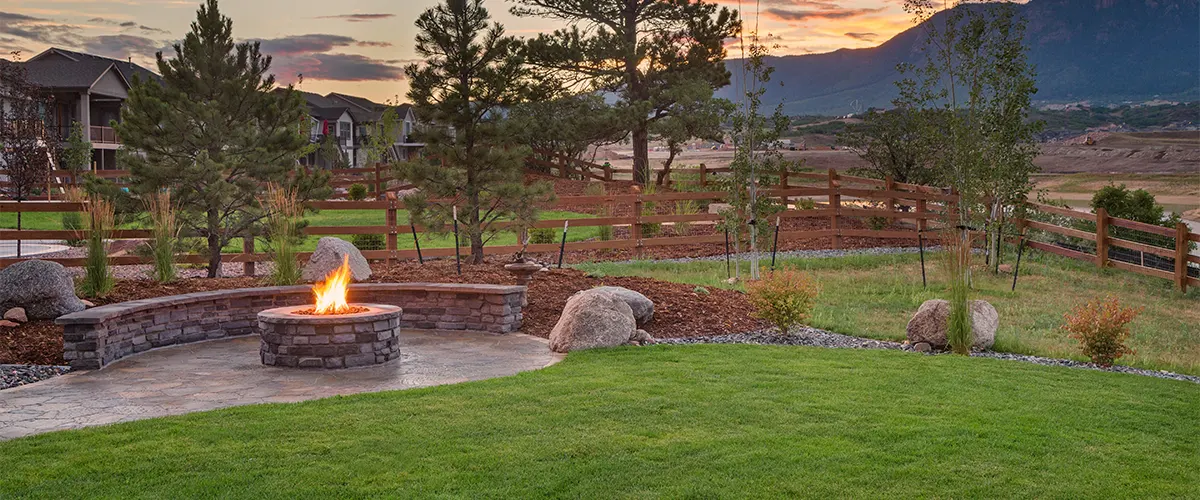 The Most Popular Types Of Hardscaping
Let's look at some of the most popular hardscape elements and what purpose they serve.
Retaining walls are used to create a better flow between two different levels of ground.
Most stone retaining walls are built using the dry-stack method of natural stone. It doesn't require mortar between the layers of stone, nor a concrete footing. These drain well as they allow water to pass through.
As long as the retaining wall is less than 3 feet tall and you have some experience with building them, you can try building it on your own. However, retaining walls need to be safe, so we recommend hiring a professional to build yours.
Concrete, brick, or flagstone patios are great hardscaping elements where you can install a pergola or place a table with some chairs. Patios are an extremely popular upgrade that can serve as a great place to host outdoor gatherings, or an outdoor dining night.
A concrete patio is the most affordable option between the three, but a flagstone patio is sure to uplift the look of this small structure.
While concrete needs to be poured and treated, a brick patio is way simpler and quicker to install, but a bit more expensive. Another alternative are concrete pavers which you'll only need to install.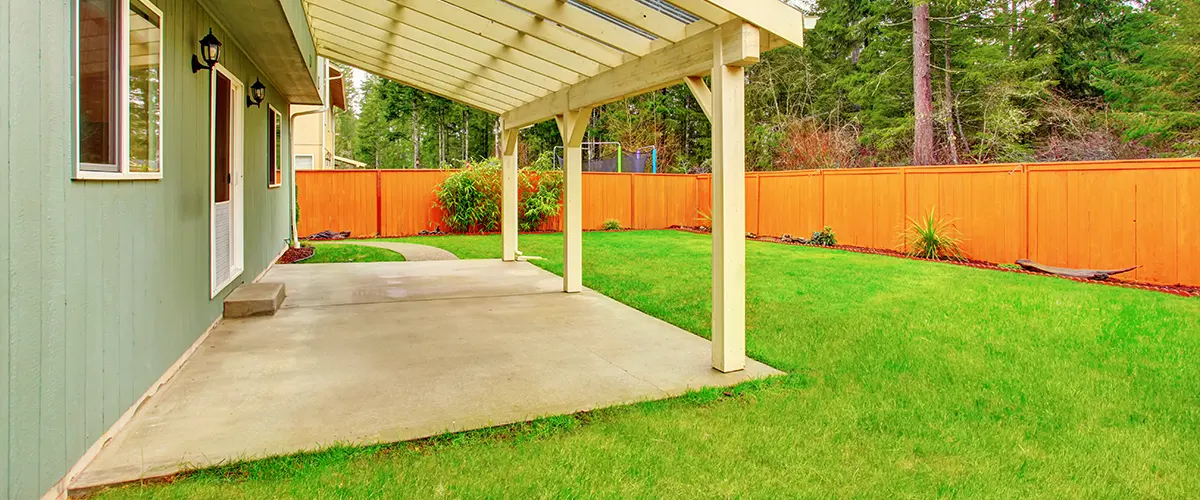 A stone or a gravel path is an affordable hardscaping feature that requires very little work. However, there are some downsides to this.
If the soil remains untreated against weeds, grass can start growing on the gravel walkway and it'll need to be cleared every once in a while.
Besides the unaesthetic look of poorly maintained gravel paths, there's always the risk of hurting your feet on the moving stones.
Stone landscaping is a popular hardscaping feature, especially in Colorado.
Many of our customers opt in for this upgrade to neatly organize different areas in their backyards. This helps to determine some borders, but also make the space feel airier.
Large rocks and stones remain an affordable and efficient hardscape feature.
Wood fences are perfect if you want to feel more safe in your backyard. Privacy fences are ideal if you love spending time outside catching a tan, or if you simply don't want anyone to see what you're doing in your backyard.
Wood fences are a more affordable option that focus mostly on safety and privacy, but if you want a decorative hardscape feature, go for a metal fence.
A pool enclosure with an aluminum fence, for example, will make your pool safer without hiding this amazing outdoor feature.
Decks are by far the best outdoor space upgrade you can get to relax and kick back with your loved ones.
Wood decks are still quite popular among homeowners, but composite decks are gaining increasingly more ground, especially among older homeowners.
And it's easy to understand why.
Composite decks require little to no maintenance, are safer, durable, and you'll save more money in the long run. On the other hand, wood decks will require constant staining and sealing, and numerous repairs that can cost a fortune.
Composite pool decks, for example, are an outdoor design with an immense ROI. They will boost your property's value but will also improve your life in many more ways.
Arbors are decorative structures that offer climbing plants the ideal environment to grow. These are great ornaments in many garden layouts, as they can become a focal point in your garden.
Arbors are made of wood and have the form of an arch.
Gazebos are small structures elevated from the ground. They are spherical, covered, have a fence all around them, and a couple of stairs.
A gazebo can serve as a great spot for bird-watching, or just relaxing with a loved one.
Gazebos, arbors, and pergolas are made of natural materials like wood and stone, but you can sometimes find ready-to-assemble kits from home improvement stores like Ikea, Lowe's, or Home Depot.
Pergolas are larger structures with a patio and a roof. This structure can be made of wood, fiberglass, stone, concrete, or even metal. You can get a pergola kit or a professional can build one from the ground up.
Pergolas offer the ideal place to host a family gathering or to kick back with your friends and create long lasting memories. Besides, a pergola can also act as an outdoor kitchen that increases the living space of your property.
Hardscaping Or Softscaping?
As we said, hardscaping features without softscaping would mean an incomplete outdoor space.
If you want to create an outdoor space that'll leave everyone breathless, you need to combine the two and find the perfect balance. While this can be a daunting task for a DIYer, for a professional outdoor designer, it couldn't get any easier.
At Land Designs By Colton, we are experts when it comes to landscape designs and outdoor living spaces. We specialize in decks, pergolas, irrigations, pavers and patio installation, and landscape design.
Since 2010, homeowners in Denver have been enjoying getting their outdoor spaces uplifted by the best land design company in Colorado – Land Designs By Colton. If you want to create your own personal oasis right in your backyard, 
fill out this form
 for
a free quote
or call us directly at 
(720) 580-3677
.