Xeriscaping cost in Denver, CO, is no different than in the rest of the country. In fact, some might say this project is more feasible here because of the climate, so your investment will definitely be worth it.
At Land Designs By Colton, we know for a fact that this project is a real investment because we've witnessed dozens of homeowners go ecstatic after the job was done. And when it comes to cost, you'll get to enjoy a fair and reasonable price for a complete, top-quality service.
Going the extra mile to see our clients satisfied defines us, and if you want to start this project with a pro, why not get someone who truly cares about you, your time, and your investment?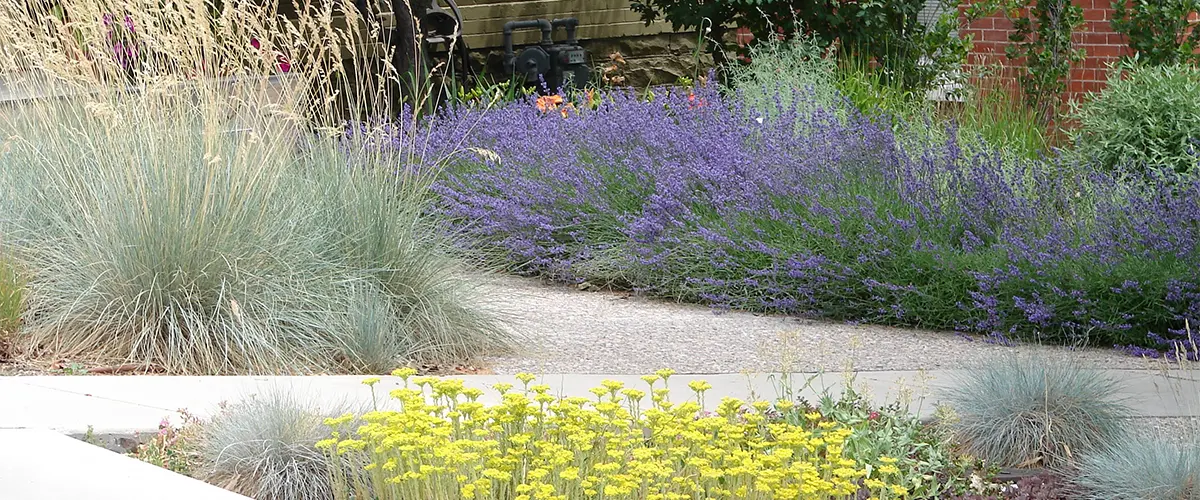 The Typical Xeriscaping Cost In Denver, CO
Xeriscaping is an extensive outdoor project ranging from as little as $15k to as much as $30k. The cost mostly depends on the area you want to dress up, the plants you're getting, and the rocks, gravel, and pebbles. Don't forget that the labor and design fees also apply.
| Yard Size | Cost (Labor Included) |
| --- | --- |
| 500 sq. ft. | $$7,500 - $15,000 |
| 1,000 sq. ft. | $15,000 - $30,000 |
| 1,250 sq. ft. | $18,750 - $37,500 |
| 1,500 sq. ft. | $22,500 - $45,000 |
| 2,000 sq. ft. | $30,000 - $60,000 |
What Else Impacts The Xeriscaping Cost In Denver
Xeriscaping means transforming your backyard, front yard, or entire property into a beautiful outdoor space with features that require no water. So while you won't have a pond with koi fish or a big lawn to play football with the little ones, you'll save a lot of money on water, and a lot of time on maintenance.
Here are just some of the elements that can go into a xeriscaping project.
Xeriscaping plants are drought-tolerant plants as they don't need water to grow. They have a bunch of benefits, but by far what sells people the most is that they don't need the same maintenance as normal plants do.
You'll save money on irrigation, you won't have to worry about the weather being too hot for them, they'll boost the biodiversity and sustain the local ecosystem, and last but not least, they're beautiful!
Some xeriscaping plants are:
Depending on how large the area is, the budget is between $5,000 – $15,000 for adult plants alone. You can get smaller plants and wait for them to grow so you can save some money, but if you want to enjoy your outdoors sooner, adult plants are better.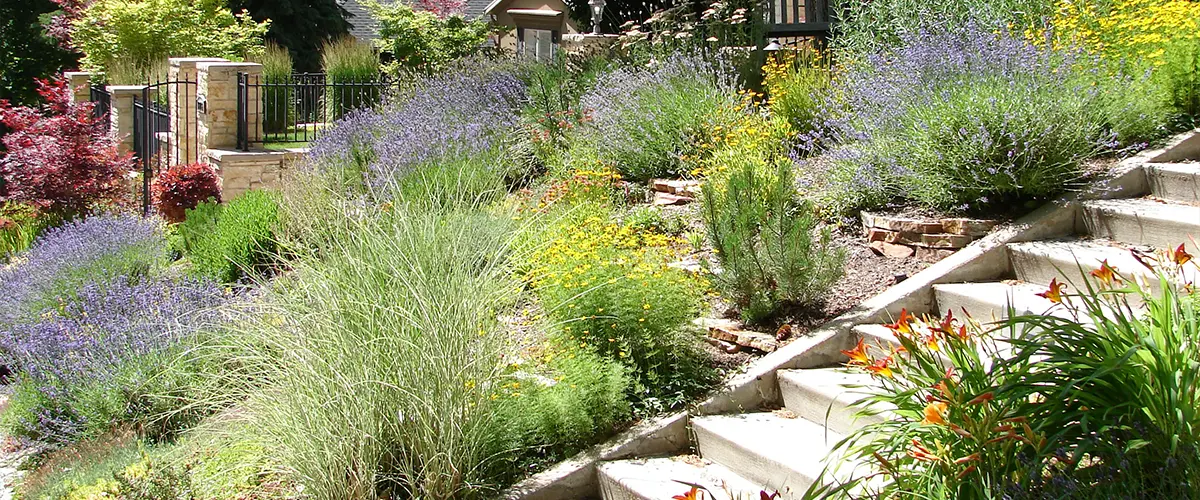 Rocks, Stones, And Gravel
Rocks are essential in any xeriscaping project, as they help divert water to a specific area of your yard. These can be large granite rocks, crushed gravel, or even small pebbles. We add to most of our projects concrete slabs as well to create sets of stairs, as stepping in gravel is not necessarily a walk in the park.
Other rocks and boulders can be used for decoration, diverting water, and creating a more eco-friendly landscape (like a shelter for lizards). Generally, rocks will be installed after everything is planted.
The total cost of your rocks depends on which ones you choose and how much you need for the job. River rock or other xeriscaping rocks average $2 to $6 per sq. ft. Most people spend between $750 and $5,500 on their rock installations.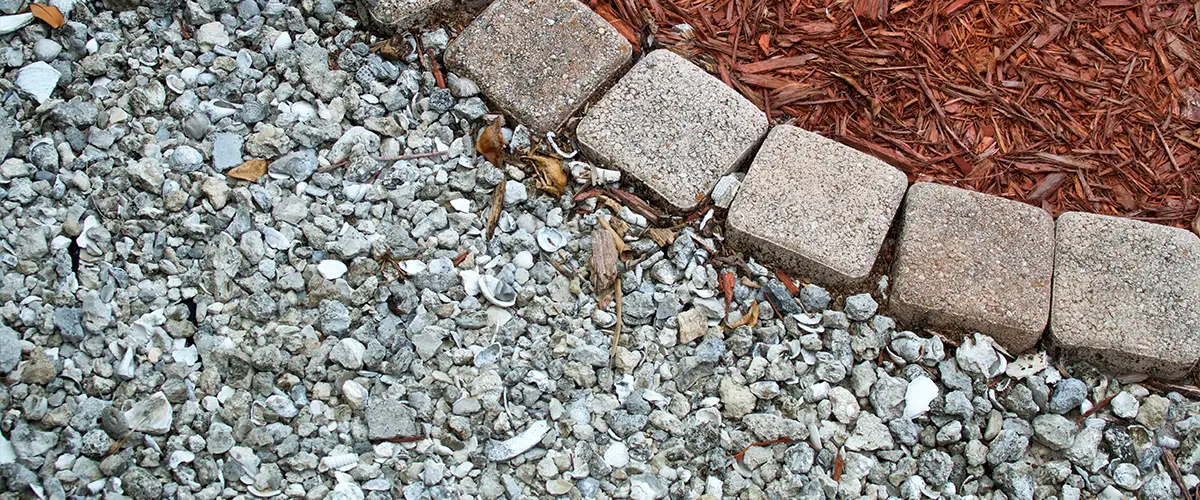 Artificial turf is not in the books of many, but for people who still want to have a patch of what looks like lawn, this is a great option. Obviously, artificial turf requires no water, is fairly quick and easy to install, and it'll never dry.
Artificial turf can be:
| Size | Average Cost (Installed) |
| --- | --- |
| 500 sq. ft. | $2,500 - $6,250 |
| 600 sq. ft. | $3,000 - $7,500 |
| 1,000 sq. ft. | $5,000 - $12,500 |
| 1,200 sq. ft. | $6,000 - $15,000 |
| 2,000 sq. ft. | $10,000 - $25,000 |
| 2,500 sq.ft. | $12,500 - $31,250 |
| 3,000 sq.ft. | $15,000 - $37,500 |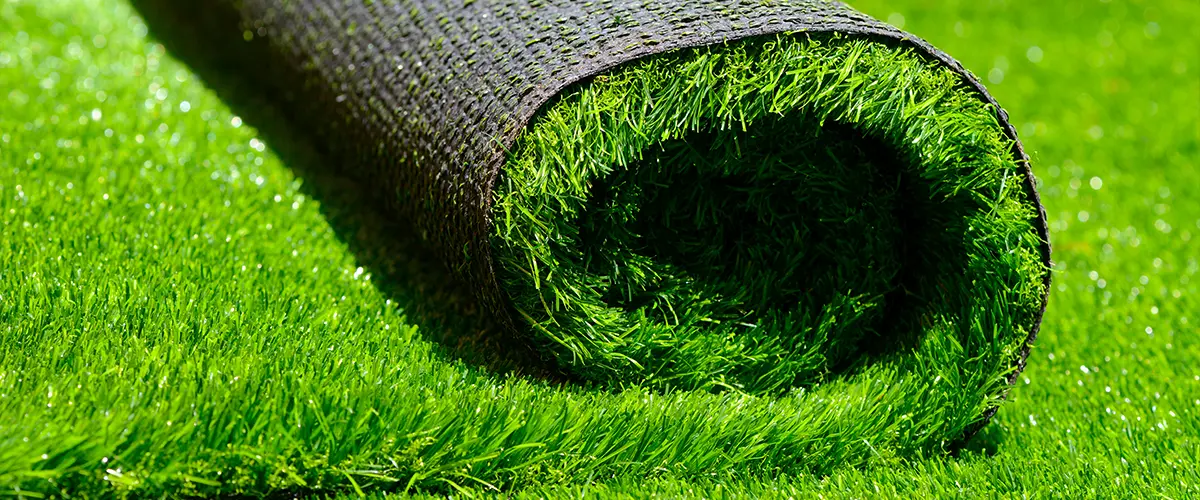 Mulch is a loose material made of organic or synthetic ingredients meant to protect the soil in your xeriscaping project by retaining moisture and regulating the garden bed's temperature.
Both organic and synthetic materials enhance the look of your property, but they work in different ways.
As organic mulch breaks down, it continually replenishes your soil with more nutrients. But if you're looking for a long-term cost-effective solution, then inorganic materials are ideal — some of them being synthetic while others natural— as they don't break down and need to be replaced less often.
Inorganic mulch costs between $25 and $300 a cubic yard, and organic mulch will cost between $50 and $150 a cubic yard.
| Amount | Average Cost for 1 Cubic Yard (Materials Only) | Total Cost (Materials Only) |
| --- | --- | --- |
| 1 - 3 Yards | $40 - $60 | $40 - $180 |
| 4 - 6 Yards | $30 - $40 | $120 - $240 |
| 7 - 10 Yards | $20 - $30 | $140 - $300 |
| 10 - 20 Yards | $10 - $20 | $100 - $400 |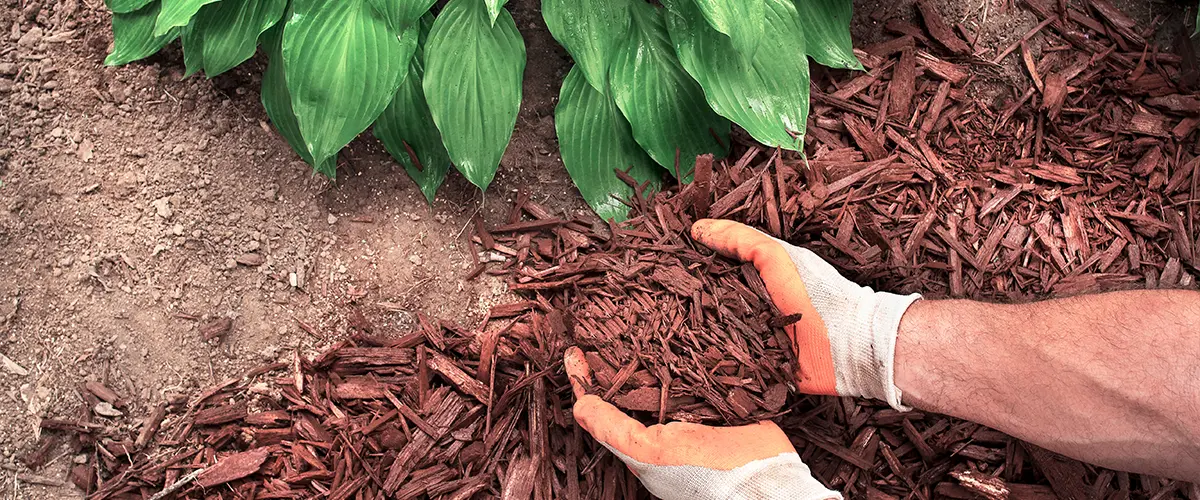 Other Enhancements You Can Get For Your Xeriscaping In Denver
Besides all the plants and rocks, you'll also need some extra features to finish off the place and make it fully functional. Here are some great upgrades you should consider:
Firepit, Pergola, Patio, Deck, Or Gazebo
Hardscaping is a must in all backyards. You need a place to relax, and a pergola, a patio, or a deck are some of the most popular additions you can get. Luckily for you, here at Land Designs by Colton, we're also building all of these! Get a high-quality deck, a luxurious pergola, or a custom firepit at the best price in Denver – with us!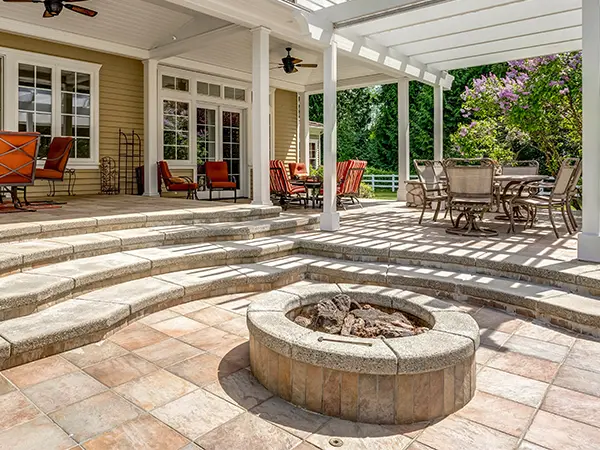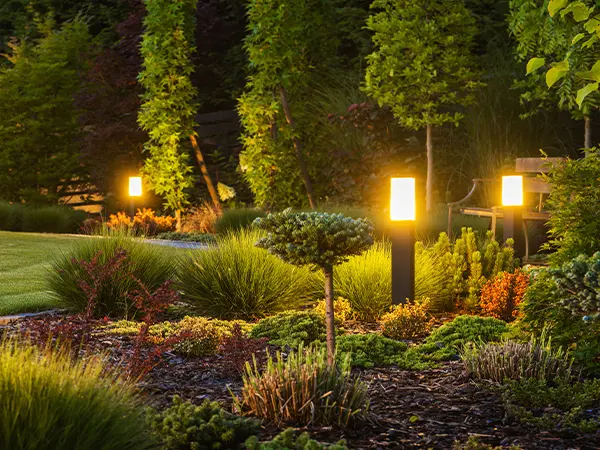 As days grow shorter, having good lighting in your backyard can save you from a lot of trip hazards. After all, safety should be a priority, and lighting will definitely improve it. Buying and installing outdoor lighting fixtures will cost between $2,000 and $4,000.
Rainwater Collection System
Rainwater is essential to xeriscaping and can cut back on the amount of money spent each year to keep your garden healthy – especially during times of drought. On average, this cost-effective solution will set you back around $2,500; but it's worth every penny if done right!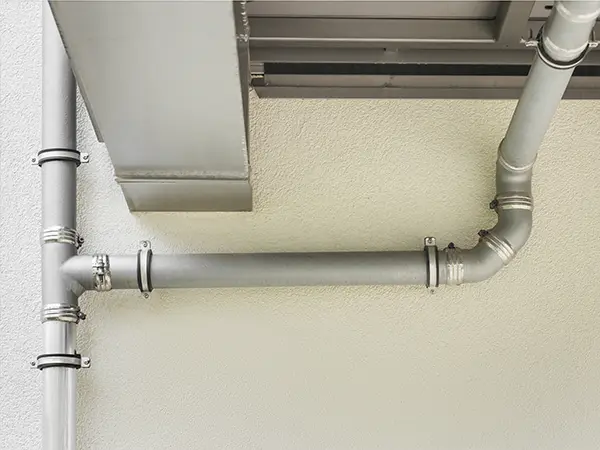 Turn Your Xeriscaping Project Into An Investment At A Fair Price
The climate in Denver is one of the toughest when it comes to dryness, so there's no doubt that xeriscaping is an excellent project for homeowners that want a beautiful landscape without needing all the water to keep the plants healthy.
With Land Designs by Colton, we can guarantee you a spectacular outdoor space that's free from all the maintenance associated with having a flourishing backyard. You can now get the same beauty but without the added maintenance costs!
And to top things off, we're giving you the best xeriscaping cost in Denver, CO, so you can turn your project into an investment at a fair and reasonable price!
With us, you're getting:
Take Advantage Of The Best Xeriscaping Cost In Denver Now!