Getting your deck building in Arvada CO started just got a lot easier with Land Designs By Colton.
If you're looking for professionalism and dedication, we're your local deck builder and landscaper in Arvada, Denver, Englewood, and more of Colorado that's ready to take on your project and get you the best outdoor space you could ever have!
With 15 years of experience in building long-lasting decks, we understood you have to be at the front and center of our work.
We're offering not just a deck, but much more than that!
A Deck Construction That Comes With Extra Benefits
Our ultimate goal is to constantly over deliver and delight you with benefits and advantages that no other deck builder in Arvada offers!
Upgrade Your Outdoors' Comfort With A Premium Deck
Decks are our specialty, and our Arvada customers love seeing their outdoor spaces upgraded with such an impressive addition.
Experience taught us how to build functional, aesthetic, safe, and long-lasting decks from scratch. Decks that match with your home and your needs, but also have some extra features that boost its comfort and how much you can entertain your visitors.
At Land Designs By Colton, your deck building in Arvada CO is in the best hands possible. Your own deck architect, designer, and builders, are constantly at your disposal to make your dream deck come to life.
Get the best deck builder in Arvada, CO on your project right now! Check out our deck building offer and make sure your new deck leaves everyone speechless!
Arvada Homeowners Love Their New Decks!
Jonathan and his team just finished fully landscaping the front and side of my home in Lohi.
He did an amazing job! He was on-time, finished the project in one day, left everything looking perfect and clean when they were done. Highly recommend!
Land Designs by Colton provides great customer service, reliability and creativity for all your landscape and maintenance needs for home or office.
Type Of Upgrades And Materials
There are a lot of options you can choose for your deck building in Arvada CO. All materials will bring a different level of functionality, and all extra features will make your deck feel more comfortable.
At our on-site consultation we'll walk you through the best options for your particular situation. Until then, let's see what are the most popular features and materials.
The deck frame is what keeps the structure up, so it needs to be strong enough to sustain heavy weights.
The traditional material for deck framing remains the Grade 1 pressure treated wood rated with ground-contact. It's strong, relatively durable, and also inexpensive. However, they're not as reliable as metal frames.
Metal frames from brands like Fortress Building Products are a much better option, but they're also more expensive. They'll literally lose longer than your decking surface will. Needless to say, metal frames are much stronger, more durable, immune to rot, pests, and the elements, making them no match for wood frames.
Your decking surface will finish the vibe of your new outdoor space. When choosing the decking material, you'll need to consider aesthetics and functionality, but also cost.
For example, woods like Ipe, mahogany, or teak give your deck an upscale look and a natural vibe as well, but they come at a higher price point. At the same time, pressure treated wood is the most affordable material, but the maintenance costs will add up over the years.
To avoid maintenance costs and intensive maintenance labor, composite decking is the best option. Composite needs no staining, sealing, or frequent repairs like a wood deck does.
Here at Land Designs By Colton, we work with top brands in the composite decking industry like Trex, TimberTech, and Fiberon.
Railings are a must, and if you were thinking about skipping them just to save some money, that wouldn't be possible. For decks elevated from the ground, as per the building codes in Arvada, you'll need railings.
Aluminum railings are the best railings you can get. They'll boost the safety of your deck while also matching the wood material, creating a beautiful space that's nothing short of impressive.
Composite is the second option, but far from being as good as metal. They're still more durable than wood, but they come at a similar price as aluminum, so why not choose the premium option for the same amount of money?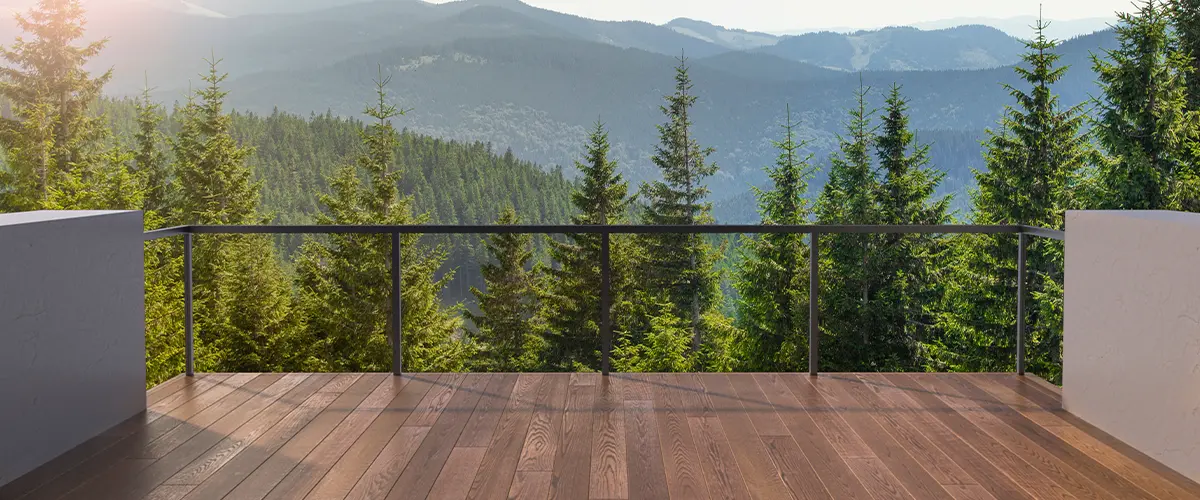 Deck lights are mandatory for decks with a set of stairs, and because most decks will have a few steps, skipping lights is a no-go. And why would you?
Deck lighting gives a sense of comfort and safety on your deck, especially at night. They create a cozy atmosphere, ideal for a board game night or simply to kick back with your friends.
We'll recommend multiple lighting options based on two things: low-voltage lighting with a long lifespan. You don't want your electricity bill to skyrocket, and you don't want to have to replace them in a few years' time.
Get Inspiration For Your Deck Building In Arvada CO
Check out some of the outdoor spaces we've worked on. Get inspiration for your own deck building in Arvada CO and start your project with your local pros!
Begin With The Easiest Deck Building Process In Arvada!
We made home improvement projects a pleasure to go through!
By focusing on your needs and preferences, you'll get the quickest and most efficient deck building in Arvada.

Get in touch, and let's come up with a plan!

When you're ready, we get to work and start building your new deck!

Plan your next family gathering and start entertaining your guests!
Frequently Asked Questions
At Land Design By Colton, a simple, 10×10 square foot deck made of wood starts at around $9k. Our 12×16 square foot composite decking costs around $28k and it includes middle-grade lighting and hidden screws.
Our high-end deck building projects cost $44k and more. They're large exotic hardwood decks of more than 16×20 square feet, with high-end lighting, custom railing, hidden screws, and more.
At our on-site consultation, you'll get an accurate quote so you know exactly how much to budget for your upcoming project.
Allocate between two to three days for the basic and average deck construction. For larger, high-end decks that are elevated from the ground, you'll have to budget more time. These decks can take about a week to complete.
We value quality more than getting your deck done fast. If your deck requires more attention and care, be sure we'll dedicate all our resources to ensure your new addition is 100% safe and functional.
You'll get an accurate timeline at our on-site visit.
Yes! I have a degree in Landscape Architecture from Mississippi State University and I've completed several architecture internships around Colorado. Me and my team know the deck building codes in Arvada like the back of our hands so you can get the highest deck building standards.
You'll be working with insured and licensed tradesmen, all dedicated to your complete satisfaction. We value discipline, transparency, and communication to ensure you're getting an efficient and quick deck building project.
Learn more about Land Designs By Colton and our mission from here!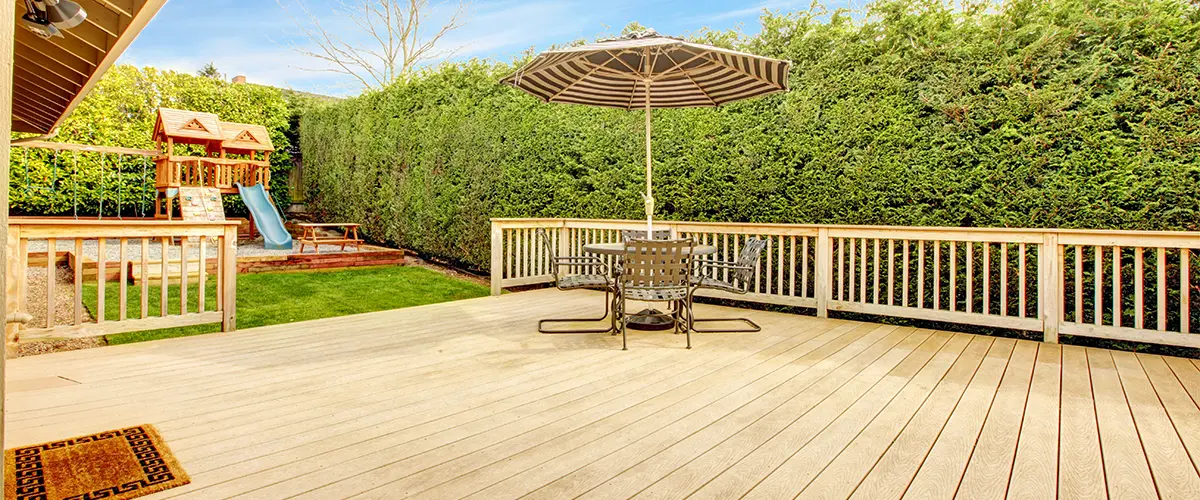 Uplift Your Outdoors With The Best Deck Building In Arvada CO!
Get your deck building in Arvada started and witness how your outdoor space reaches its true potential! Create a place that can entertain your guests and plan your next barbecues on a beautiful deck.
If you're ready to begin, Land Designs By Colton offers you the most cost-effective solutions that keep your home trendy, impressive, and valuable.
Besides a premium deck construction, you'll also receive:
The Best Decision For Your Outdoor Space Awaits You