Landscaping is a serious part of your property that when overlooked, can create an unpleasant look that's hard to fix later on.
If there's anything that stopped you from getting in touch with a landscaping company it would either be the cost of landscaping or you simply didn't know it's importance.
In this article, you'll discover the cost of landscaping in Colorado and what goes into a landscaping project.
Let's begin.
The Average Cost Of Landscaping
Landscaping can include a lot of things, from a basic lawn maintenance to a full landscaping project with an outdoor space, trees, pathways, and other features.
Depending on the scope of work and what you're planning to change in your backyard, the cost of landscaping can even be as high as $150k. 
As a rule of thumb, the cost of landscaping should be no more than 10% of the value of your home. So if you're living in a $750k home, you should spend on your landscaping project no more than $75k.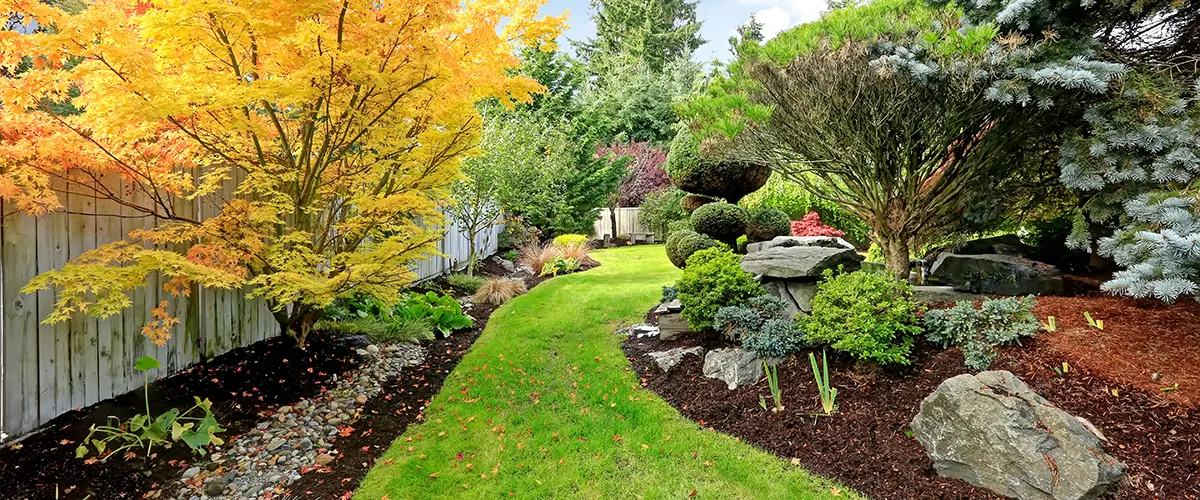 What Impacts Landscaping Cost
There are many factors that will influence your landscaping cost. So for the same $750k home, you can actually end up spending just a couple thousand dollars on your landscaping project if you're only looking for a small upgrade.
On top of these, add the cost of your building permit. At Land Designs By Colton, we take care of all the paperwork necessary to get your project started. You can find more information about building permits in Denver, Colorado, here.
How much landscaping cost will depend on four main factors.
Naturally, the bigger your backyard, the bigger the project (unless you're remodeling just one part of it).
On average, landscaping costs $4 to $12 per square foot. However, this will also depend on where you're located, the state of the ground, and the complexity of the job.
The national average cost for a backyard landscaping project is $12,825. The extreme high-end can be as high as $38k, and the extreme low-end landscaping prices can be even below $2k.
The features you'll want to add to your landscape is another big factor that impacts the total cost of your landscaping project.
For example, you can add a flower bed that can cost as low as $650, or a gazebo that can cost as high $9k. Pathways are another common upgrade. Their installation cost between $8 to $22 per square foot.
We'll discuss more hardscaping and softscaping features below.
Your choice of materials is another big factor that will impact your landscaping project quote.
You can choose more affordable options at the risk of them getting damaged sooner, or you can invest in more expensive materials that uplift the look and feel of your feature.
Patios, for example, can be made of concrete, which is fairly inexpensive, or flagstone. While concrete needs a good finish to make it look better and less dull, a flagstone patio will look amazing without any finish.
Let's look at some material costs.
| Landscaping Material | Average Cost |
| --- | --- |
| Landscape Boulders | $150 per ton |
| Landscape Gravel | $20 - $30 per square foot |
| Lawn Turf | $5 - $20 per square foot |
| Lawn Replacement | $1 - $2 per square foot |
| Retaining Wall | $15 - $20 per square foot |
| Crushed Stone | $1 - $2 per square foot |
| Crushed Granite | $1 - $3 per square foot |
| Stone Steps | $100 - $300 per step |
| Granite Pavers | $6 per square foot |
| River Rocks | $100 - $800 per ton |
| Lava Rocks | $75 per ton |
| Boulders | $100 - $600 per ton |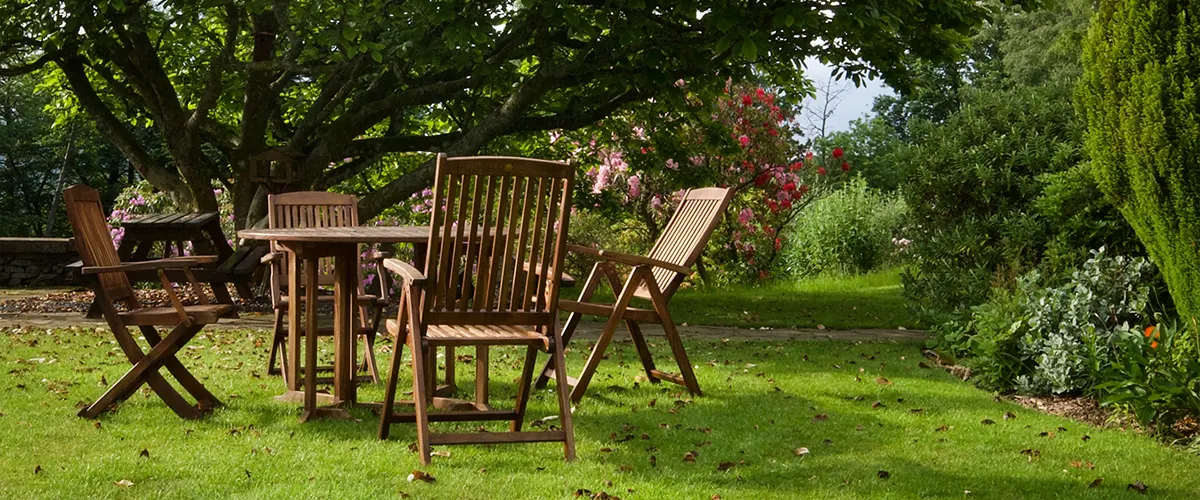 When it comes to the cost of landscaping, labor costs make up about 80% of the final quote. It requires a lot of time, physical effort, and attention to details.
Landscapers companies charge on average between $50 and $100 per hour for a crew of two. As the number of workers increases, so does the labor cost.
You'll also have to budget for a landscape designer and a landscape architect if you want your outdoor space to make sense and flow. Good landscape designers charge at least $200 an hour, but for a great one expect to pay more.
The landscape design cost and the landscaping maintenance costs are also part of the labor costs.
The cost of landscaping will be influenced by the hardscape features you'll get. These are the non-living features in your backyard.
Let's look at the most common hardscape features homeowners in Colorado get for their landscaping projects.
A pergola is a frame with a roof on top of your patio. You can buy a prefabricated pergola or hire a professional to build a custom one for you.
The size and materials you'll choose will impact the cost of your pergola, but the price usually falls between $2k and $10k.
Gazebos are covered spaces, elevated from the ground, with a spherical shape. They usually have a fence around them and a couple of stairs.
Gazebos can be built by professional landscapers or you can buy a prefabricated gazebo kit from home improvement stores like Lowe's or Home Depot.
Gazebos can be quite expensive depending on their material. They typically range between $5k to $10k.
Arbors are structures designed to uplift the aesthetic of a garden and to provide a great environment for climbing plants.
These have the form of an arch and are mostly made of wood. You can find prefabricated arbors in home improvement stores or hire a professional to build one for your garden.
Arbors usually cost between $500 to $5k.
Retaining walls are the ideal solution to create a smooth transition from the different levels of ground. A retaining wall is a great way to establish boundaries in your garden and neatly organize it.
For retaining walls, cinder blocks are versatile and a popular option. Other alternatives would be bricks, boulders, or even stone veneer.
Depending on the complexity of the wall, the dimensions, and the material, you can expect to pay between $3k to $9k.
Decks are similar to patios, but are usually elevated from the ground and made of wood or composite materials.
Decks can cost anywhere from $3k to over $30k, depending on the type of materials, railing, frame, and other features.
Fences are great for privacy, security, and can even boost the aesthetic of your space.
Fencing projects can cost anywhere between $1k to over $5k. A wrought iron fence with ornaments and a gate will cost you way more than a wood fence.
While hardscape refers to all non-living things in your backyard, softscaping refers to all organic features in your backyard.
Both of these work together to create a balanced outdoor space, and you can't have one without the other. The cost of landscaping your backyard in Colorado will mostly include both of these methods.
Grass seed costs approximately $0.05/per square foot. So, for a 2,000 square foot lawn, it'll cost you about $100 to get the grass seed. If you want to hire a professional to seed the backyard, it'll cost you about $500.
Depending on where you live and the type of grass you select, sod costs about $0.55 per square foot. So, for a 2,000 square foot lawn, it'll cost around $1,100 just for the sod, or $3,000 to have it installed.
| Mow Frequency | 1/8 Acre | 1/4 Acre | 1/3 Acre | 1/2 Acre | 1 Acre |
| --- | --- | --- | --- | --- | --- |
| Weekly | $23.66 | $29.79 | $42.94 | $52.14 | $84.56 |
| Biweekly | $24.97 | $35.05 | $42.94 | $63.53 | $88.06 |
| Monthly | $28.92 | $38.99 | $46.00 | $63.97 | $93.32 |
Hiring a professional to trim one tree might cost anywhere from $250 to $500 depending on the type of job and where it's done. Depending on the complexity of the job, some trimming projects can be as expensive as $1k.
Trees must be trimmed regularly if you want to keep your property safe.
Tree removal is based on a price per foot, with average costs being $12–$13/foot.
Height
Average Cost

Up to 25 feet

The root system is small, and the trunk is thin.
$150 – $500

25 - 75 feet

The difference in price can vary dramatically depending on the root depth and trunk diameter.
$200 – $1,000

Over 75 feet

A crane is needed to remove huge trees, with care taken to remove root systems without damaging utility or plumbing lines nearby.
$1,500 and up
Landscaping is a must if you want to boost your property value and its aesthetics. Not only it'll make your home look better, but a nice landscape can boost your mood as well.
The prices in this article serve as guidelines for you to form an idea about how much you should expect to budget for your upcoming project.
While we can't tell you an exact price without knowing anything about your project, we can offer you a free quote for your landscaping project.
At Land Designs By Colton, we offer the best landscaping services in Colorado. We put your needs and preferences at the front and center of our work, and we aim to give you the best landscape project in the neighborhood.